New Beer - Lucky Spence Pale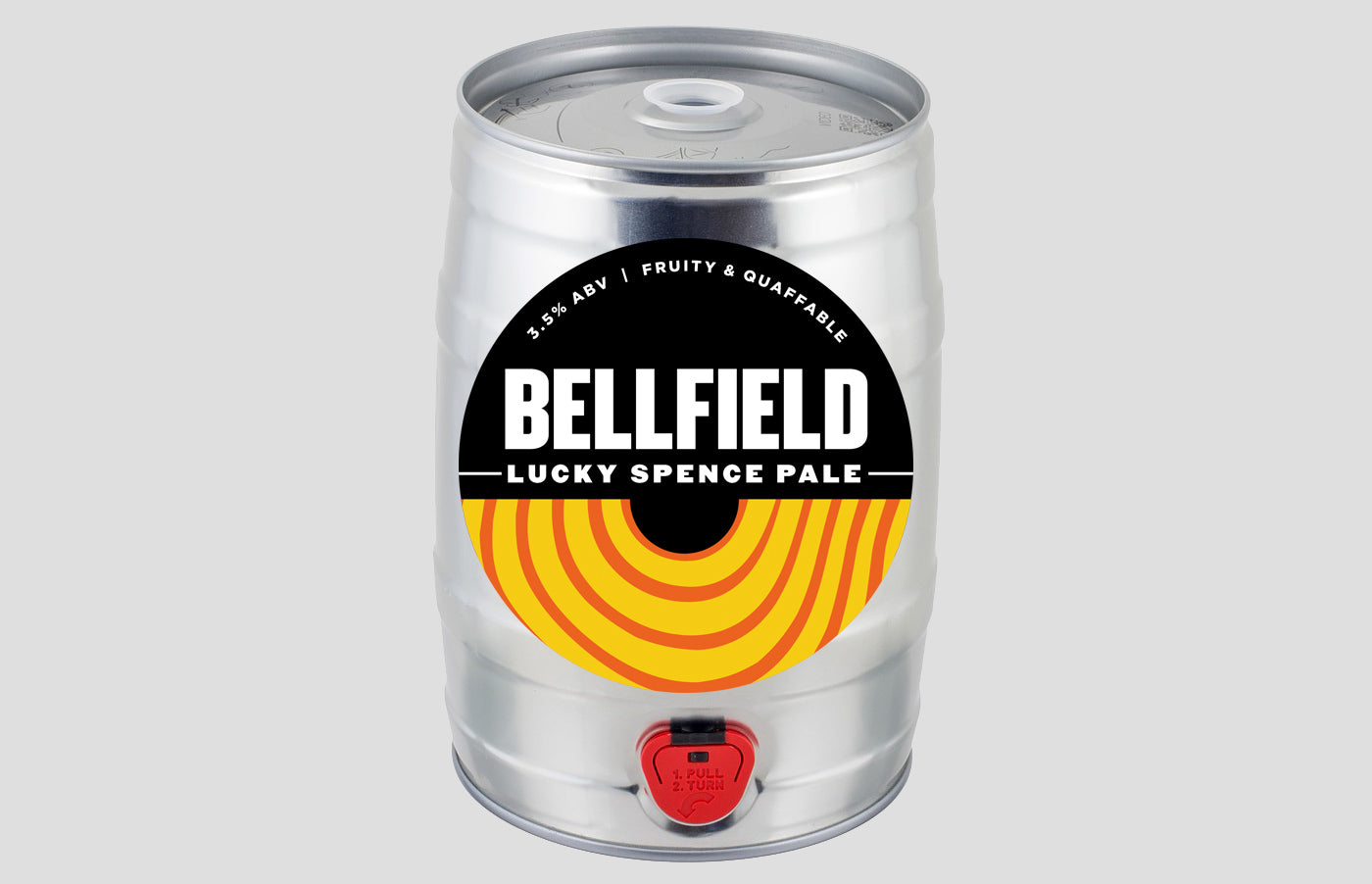 Our latest beer is ready.
"Lucky Spence Pale" will be available on draught, for takeaway from our taproom in Edinburgh (currently 3-6pm Friday & Saturday) and also in 5 litre mini-cask for local pickup and delivery across the UK.
A highly flavoursome and aromatic modern session pale ale, Keith, our brewer, describes Lucky Spence as having "a lush, fruity hop character with an assertive bitterness. It's refreshing on the finish and has honey and bready malt undertones."
Light in ABV (3.5%) but not in flavour, body or mouthfeel, Lucky Spence features three American hops – Chinook, Amarillo and Citra – and a UK hop, Olicana which combined, brings tropical, citrus and pine flavours and aromas. We designed a beer that we could imagine drinking in our beer garden in early summer and we reckon Lucky Spence hits the spot. We will also package some of this batch in 30 litre kegs so that we can definitely have a pint when beer gardens open up. Latest indications are that this could be at the end of April or early May.
Enough about the flavours, that all sounds great we hear you say. What about the name?
The name
Well, anyone who lives in or has visited Edinburgh, will at some point, have walked down to the bottom of the Royal Mile to the Canongate and stood in front of Holyrood Palace's imposing wrought iron gates.
Late last summer, a group of us from Bellfield did the same. Standing on Abbey Strand, in front of those gates, John Martin of the Scottish Brewing Archive Association (SBAA), told us more about the history of some of the buildings around us.
We'd organised a team walking tour with John, to find out more about the history of brewing in the Abbeyhill and Canongate areas of Edinburgh as a prelude to the unveiling of our Taproom mural.
The Abbey Strand buildings - the oldest of which date back to 1490 - have had many uses over the centuries, including as weapons store during the reign of James V, luxury lodgings for Mary Queen of Scots' large court and a home to debtors who could claim refuge inside the Abbey Sanctuary.
Taverns and brothels
In the 18th century, the buildings housed around 25 families and included a brewery, a row of taverns and a tavern/brothel known as Lucky Spence's.
As Tom Bruce-Gardyne says in his article on the history of the Scottish pub, pubs in those days came in many guises. "At the top of the pile were the taverns and inns where Glasgow tobacco barons could slurp rum punch while Edinburgh worthies espoused the Enlightenment over jugs of claret. Further down the scale were the ale houses which, by the late 18th century, were more into whisky than beer. Then came the tippling houses and dram shops, and finally the unlicensed shebeens." The division between the shebeen and a brothel, was a blurred; as Bruce-Gardyne says, "sex and drink were usually on the menu in both".
Lucky (Luckie) Spence, famous Madame and tavern keeper,  was immortalised by the Edinburgh poet Allan Ramsay in his raunchy ballad, Lucky Spence's Last Advice.
Written around 1718, 'Lucky Spence's Last Advice' is now in the National Library of Scotland's collection. 
Ramsay celebrates the seedy side of Edinburgh life and its characters with warmth and even some pride. In so doing, he suggests that they are as worthy of being the subjects of verse as anyone else.
The poem parodies the popular publications of 'Last Words' or 'Dying advice', which typically offered moral instruction. Lucky's advice consists mostly of instructing her 'girls' how best to exploit the hypocritical, Edinburgh establishment - including men of the cloth - who were their best clients.  
MY loving Lasses, I maun leave ye,
But dinna wi ye'r Greeting grieve me,
Nor wi your draunts and droning deave me
but bring's a Gill ;
For Faith, my Bairns, ye may believe me,
'tis 'gainst my will.
Scots measures
The final verse of the poem references the Scots measures that were widely used for spirits – or beer – throughout the 18th C – the 'gill' (0.053L) and the 'mutchkin' (0.212L)
 Lass gee us in anither Gill,
A Mutchken, Jo, let's tak our fill;
Let Death syne Registrate his Bill
whan I want Sense;
I'll slip away with better will,
quo Luckie Spence. 
Walking tours
If you're interested in seeing the building that inspired this beer, the Abbeyhill tour (one of three that John Martin at SBAA offers), starts outside Lucky Spence's and ends at the Bellfield Brewery, where you'll be able to pick up a pint or two to enjoy at home and hopefully soon, a pint in the beer garden or Taproom.
Lucky Spence Pale will be available in 5 litre mini casks on our online store from Tuesday the 16th of March for local pickup and UK wide delivery.  It will also be available on draught (cask) for takeaway at the Taproom from this weekend (Friday and Saturday 3-6pm). Please check the latest opening times or to order your mini cask.
---
Also in Lastest News from Bellfield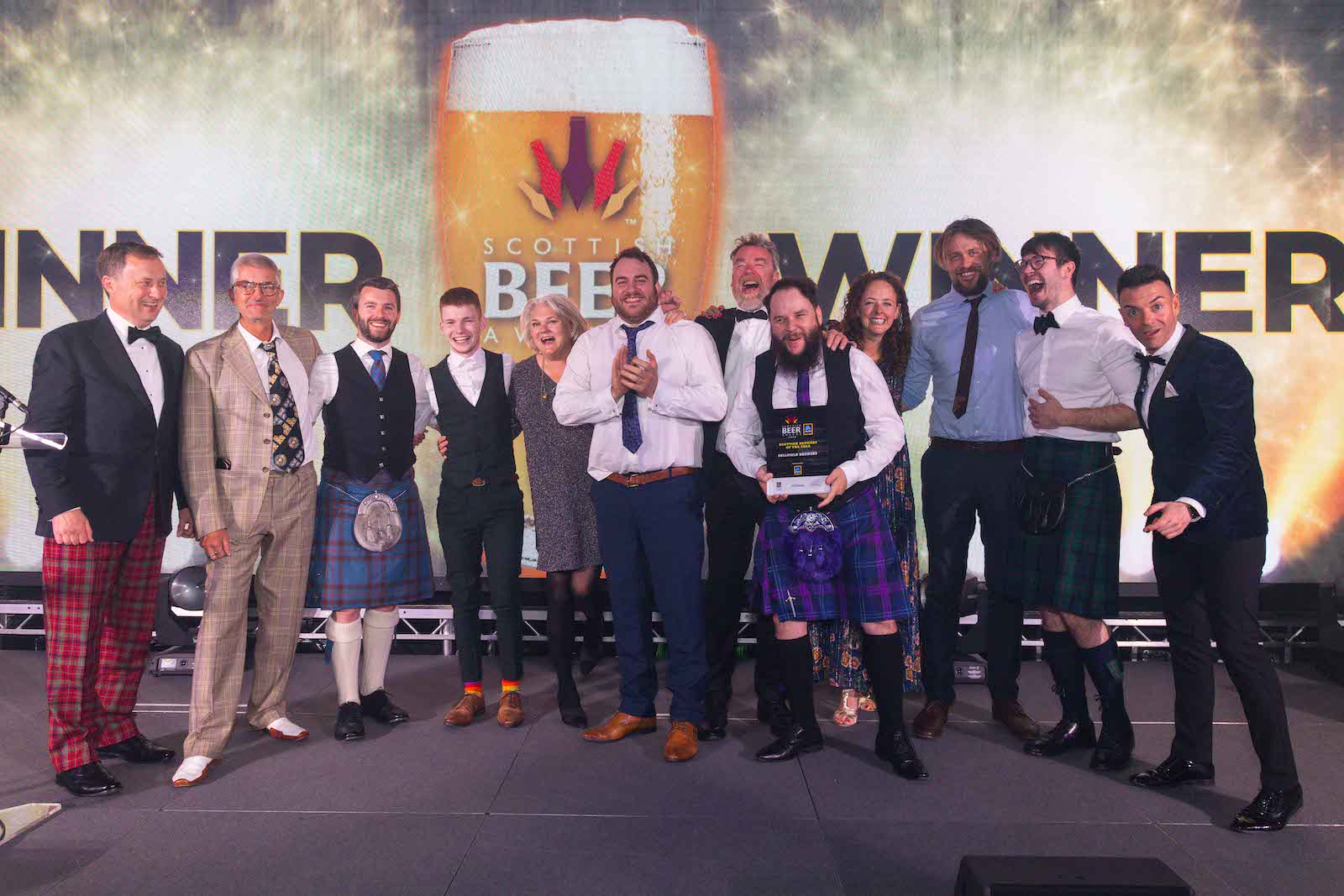 Edinburgh's Bellfield Brewery won four awards at last week's Scottish Beer Awards, winning three medals in the taste awards and the ultimate prize of the night, "Scottish Brewery of the Year", sponsored by Aldi.
Bellfield's Vienna Secession Lager won gold for "Best Amber or Dark Beer", their Craft Lager won silver for "Best Lager" and Wild Shore Saison won bronze (out of 27 finalists!) for "Best Session Beer".