Colony of Artists Bellfield Mural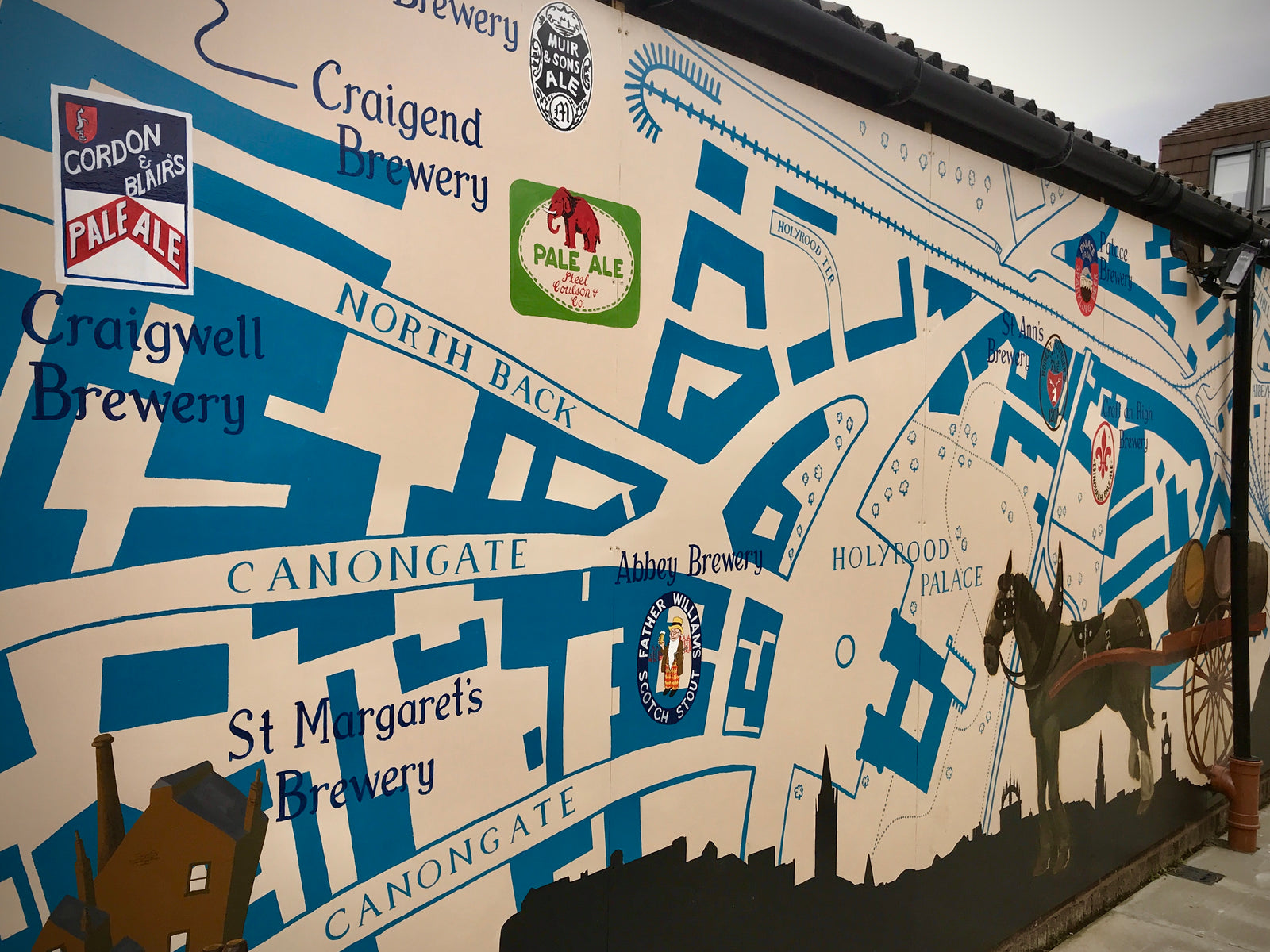 Abbeyhill has a very long and rich brewing history, most of which is now lost and forgotten.  
Edinburgh was once the world's brewing capital and today just the Caledonian Brewery survives from the 19th century. This history is an important reminder of the area's industrial past. Beer was an 'essential' drink for many of Edinburgh's residents in the 19th century, when drinking water was of variable quality.  
It seems hard to image the number of breweries that once existed a stone's throw from Abbeyhill: Croft-an-Righ ("The King's Field") Brewery (formally known as City of Edinburgh Brewing Company); St Anne's Brewery; Steel Coulson; Abbey Brewery; Palace Brewery; Robert Youngers, and the list goes on. Until 2019 all of Abbeyhill's working breweries had disappeared. Then in early 2019, Bellfield Brewery installed their new 2,000 litre brew plant at Stanley Place and, well, the story starts again!
It seemed fitting then for the well-established 'murally' people of the Abbeyhill Colony of Artists to work with Bellfield Brewery to create a mural to honour this history.  John Martin from The Scottish Brewing Archive Association (SBAA) helped us with the historical background and gave us access to some wonderful archive materials like labels and logos, so we could get the details right.  
The mural was designed by Bill Mazur, one of the founders of the Abbeyhill Colony of Artists.  He has always been interested in beer and brewing history and brewed professionally at one time. Using old maps as the initial inspiration -  and Edinburgh's stunning skyline -  Bill used these elements as the backbone of the design.  Images from Edinburgh's brewing history, old brewery labels and beer mats completed the design. 
Under Bill's direction it's been a team effort to complete the mural.  Through violent rain when a day's work was washed away, to sitting in Bellfield's beer garden after a successful day's painting, the mural could not have been completed without Jenny Haslimeier and Christina Robertson who helped with design ideas and much of the very detailed work that was required.   There were many others who dropped in for an hour or so and their help hasn't been forgotten as well as the tremendous support from Giselle Dye, Alistair Brown and the entire team at Bellfield.  
We hope that this mural will inspire you to find out more about the history of brewing in Abbeyhill.
Colony of Artists' Garden Party - a safe, socially distanced art exhibition weekend - takes place on 19 & 20 September. There's local food and drink from the lovely folk at The Safari Lounge and our friends at Campervan Brewery, a street art mural trail, exhibitions in artists' gardens. See https://www.colony-of-artists.com/the-hive-garden-party-hub.
Bellfield Brewery tap room and beer garden will be open for tasty beers, fresh from the brewhouse next door and you can, of course, come and view the mural. It's a short walk from the Abbeyhill Colonies. For table bookings click here. 
To order Bellfield Beers online click here. 
---
Also in Lastest News from Bellfield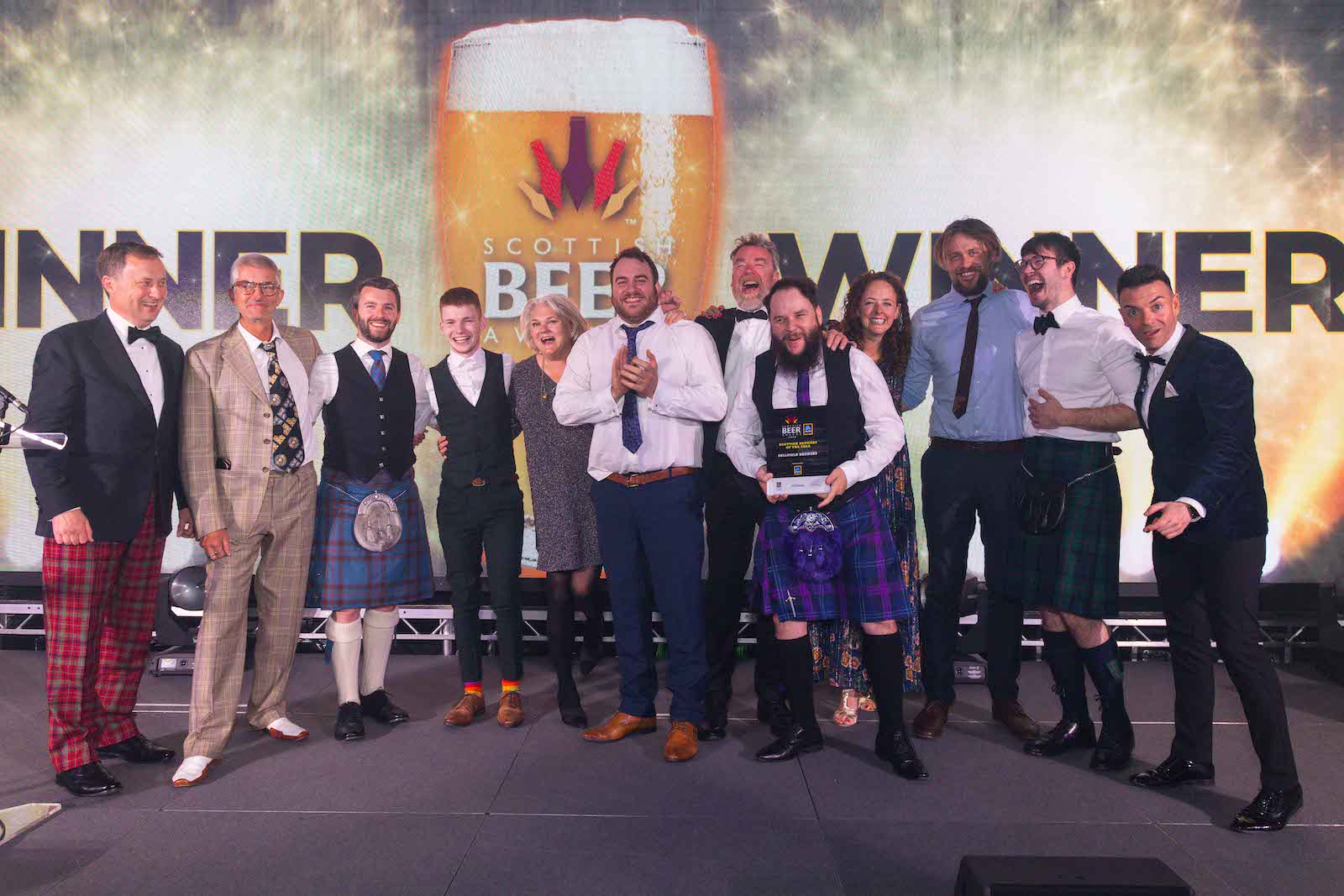 Edinburgh's Bellfield Brewery won four awards at last week's Scottish Beer Awards, winning three medals in the taste awards and the ultimate prize of the night, "Scottish Brewery of the Year", sponsored by Aldi.
Bellfield's Vienna Secession Lager won gold for "Best Amber or Dark Beer", their Craft Lager won silver for "Best Lager" and Wild Shore Saison won bronze (out of 27 finalists!) for "Best Session Beer".