Soulfull food pop up at Bellfield Taproom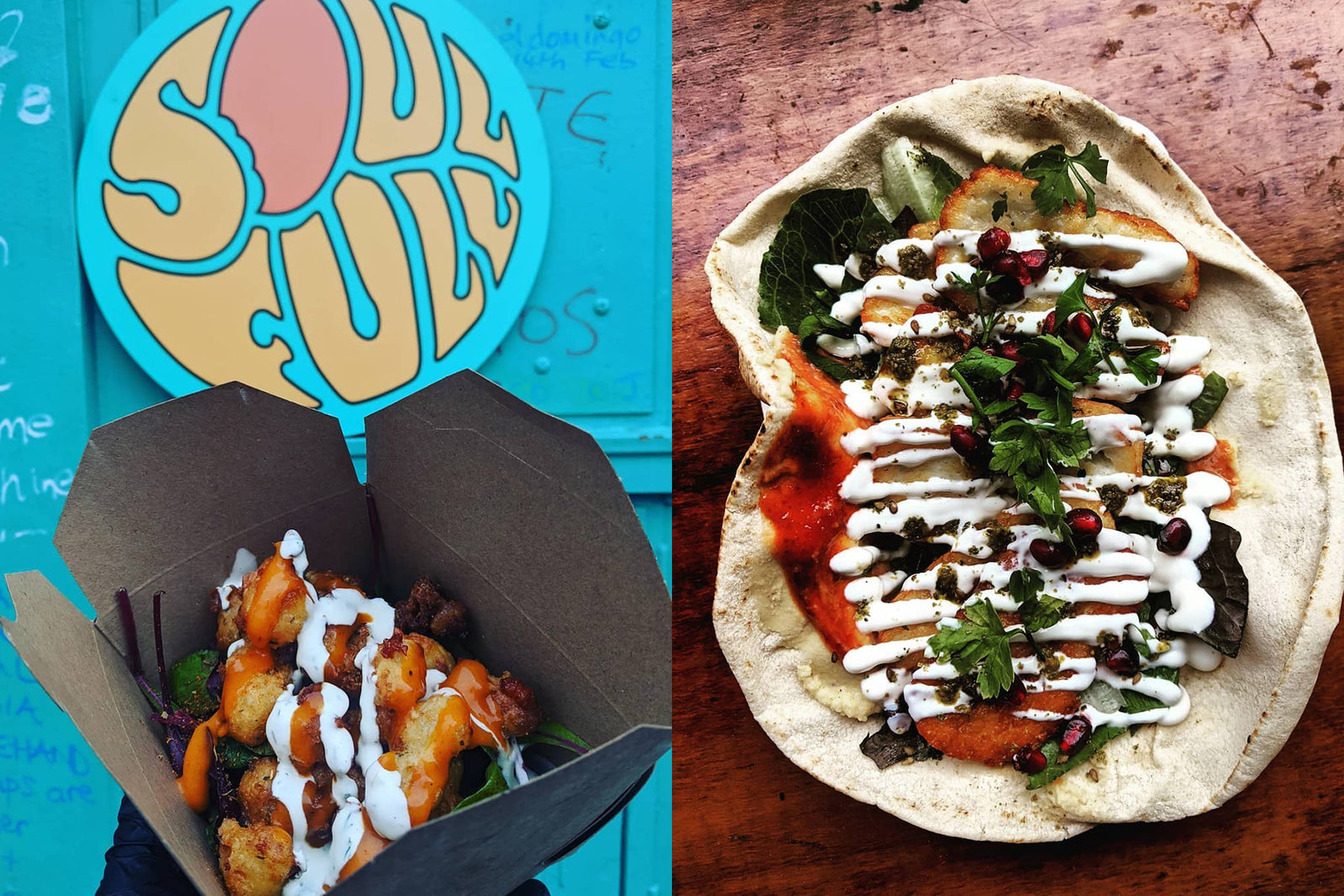 "Local ingredients cooked with soul" is the best way to describe the food by Ryan Arton and James Wright, the duo behind Soulfull. 
We're so happy to have them serving at the Bellfield Taproom and Beer Garden for their Pop Up this coming weekend!  
Scottish Street Food Awards Finalists 2021, Soulfull put a lot of love into their food, and are all about having a good time cooking together and making people happy with their grub.
Taking inspiration from a variety of street food in different spots across the globe, Soulfull bring the fun and vibrant flavours they've experienced to their own menus, while showcasing local produce, using ethically sourced ingredients and offering equally tasty vegan, vegetarian and meat options on their menu.
We've been fans of theirs for a while tasting their food at The Pitt, Nauticus and Leith Police Box, and they've put together an amazing menu for us, so here's what you can look forward to:
"On our current menu we have some dishes we're really stoked to bring to people. Our two main dishes are homemade flatbreads. These two dishes are inspired by times spent in Berlin, having a few too many beers and enjoying the amazing Turkish influence on Berlin's street food. Initially we experimented with the classic lamb/beef doner recipe, but being in Scotland, with access to more environmentally friendly and ethically sourced meat such as venison, we couldn't resist trying it. We're really happy to be putting our own local twist on such a classic street food dish. The vegetarian Halloumi Flatbread is a great offering for our veggies that is served with a zesty salad and a locally baked flatbread".
When we asked Soulfull about their favourite memories, they said "We have some pretty ridiculous tales from our time doing street food together. From crazy 15 hour days at the FRINGE festival in Bristo Square to silly Summers full of back to back music festivals. The experience of starting our street food business, relying on events, one week before COVID restrictions began has been a challenge, but something that still gives us a chuckle.
Recently, we were doing a pop-up in Nauticus, Edinburgh and got the call for a last minute BBC catering gig in Inverary. After managing to get ourselves organised overnight and on the road at 4am, our car broke down just in time for a perfect sunrise at Loch Lomond. Absolute nightmare start to an event, but once we got up there and set up, James rolled into town with the cans of Bellfield that you gave him and we managed to catch a day off at the beautiful Crinan Harbour, taking daft photos and enjoying our beers in the sun. We think this event sums up a lot of street food experiences, a manic dash to get going, but at the end of the day, good people enjoying good food and always finding time to crack a beer in the sun and share a laugh."
Soulfull will be serving at Bellfield Taproom and Beer Garden on Thursday 9th of June - Sunday 12th of June.
Table booking is advised, but walk ins also very welcome. Table service - just order food with your drinks! You can find their menu here.
Our Taproom is in Abbeyhill, Edinburgh – just off London Road. It's easy to reach on the bus, or by bike and it's a short (6 minute) walk from the Scottish Parliament and (12 minute) walk from Edinburgh Waverley Station. You can also reach us from Holyrood Park by walking along Ann Terrace off Spring Gardens, under the railway.
Opening times:
Mon-Tue (closed)
Wed-Thu (2:30pm-10pm)
Fri (2:30pm - 12:00am)
Sat-Sun (12pm-12am)
Table booking
Table bookings are for 2 hour slots via the table booking section of our website.  We allow 30 minutes between bookings for cleaning. If you'd like to stay a little longer, you can book two, back to back time slots, giving you 4.5 hours. Please book the same table type for a time slot 2.5 hours after your first one and send us an email at taproom@bellfieldbrewery.com to let us know, so we can make sure you stay in the same place.
---
Also in Lastest News from Bellfield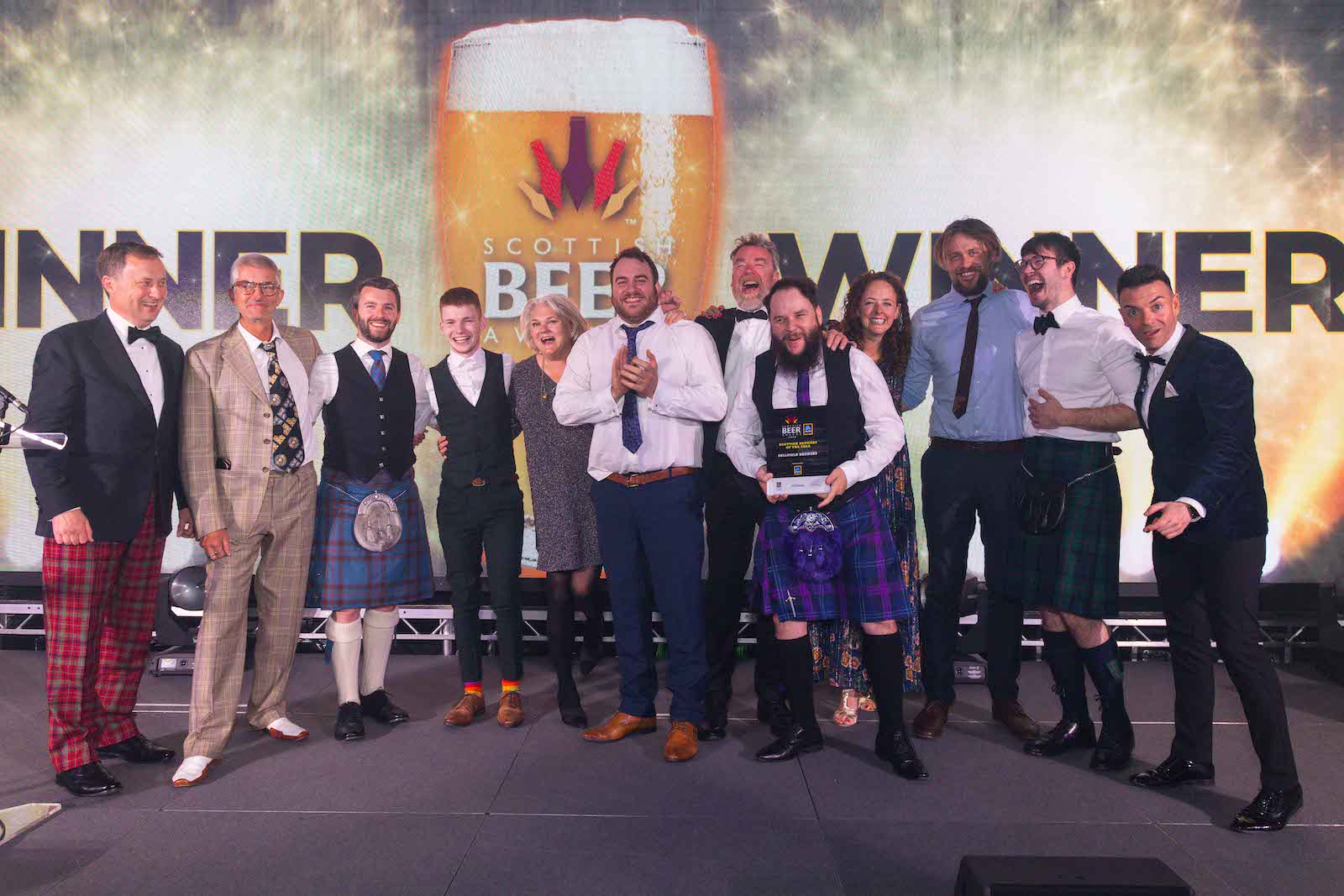 Edinburgh's Bellfield Brewery won four awards at last week's Scottish Beer Awards, winning three medals in the taste awards and the ultimate prize of the night, "Scottish Brewery of the Year", sponsored by Aldi.
Bellfield's Vienna Secession Lager won gold for "Best Amber or Dark Beer", their Craft Lager won silver for "Best Lager" and Wild Shore Saison won bronze (out of 27 finalists!) for "Best Session Beer".