Edinburgh Brewery Launches New Branding and Plans for Growth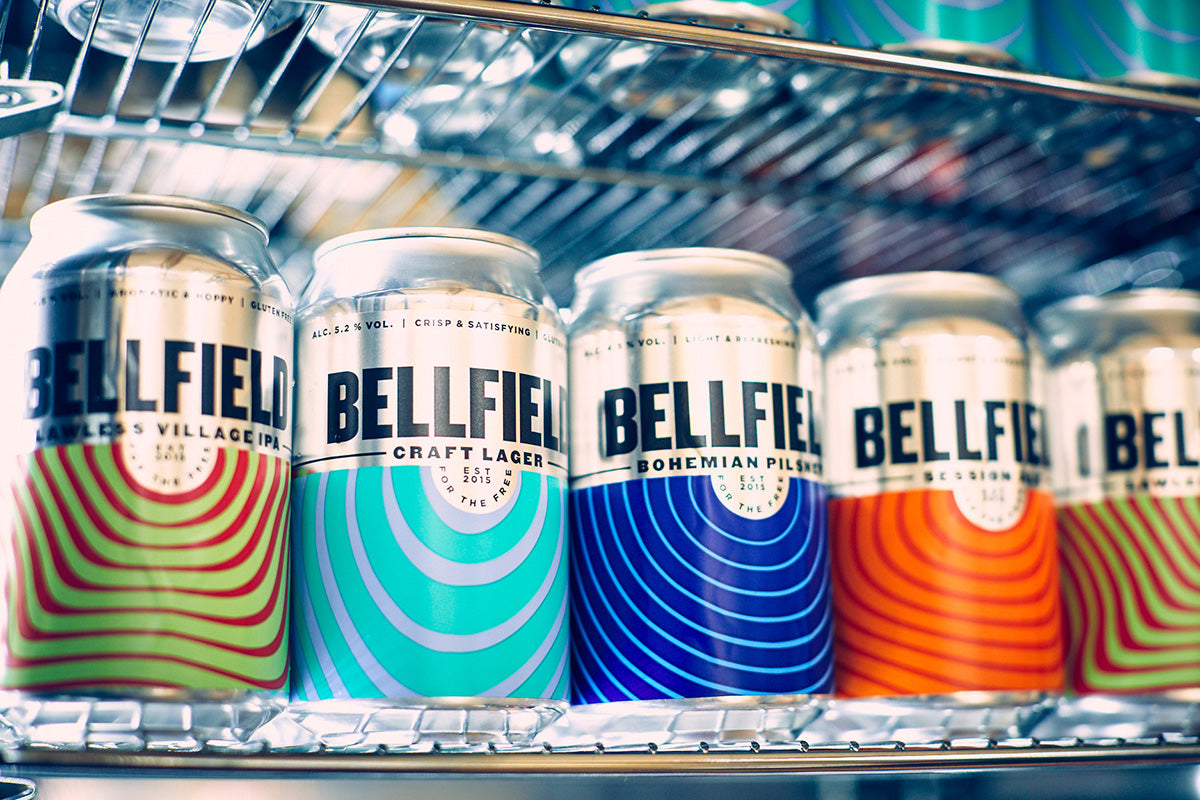 PRESS RELEASE - 06/08/2020
A Scottish specialist microbrewery is planning a strong comeback after a challenging period due to the pandemic.
Edinburgh's Bellfield Brewery – the UK's only, exclusively gluten-free and vegan brewery – is ringing in the changes with bold new branding, investment in production equipment and an all-weather beer garden at their brewery taproom near the city centre.
Bellfield's new branding is launched today and is designed to give the brewery stand-out in the on-trade and retail. 
Masterminded by Thirst Craft in Glasgow, the new branding is also intended to help Bellfield gain new listings, boost exports and extend its range by facilitating smaller volumes of new products and seasonal specials. 
The new branding references the brewery's 'free from' credentials but does so obliquely - the new strapline "For the Free" - to increase its appeal to the full spectrum of craft beer drinkers. Craft beer as a category continues to grow strongly by around 39% MAT [Note 1].
The launch will be supported by a TV advertising campaign that goes to air for two weeks from August 10th. The TV ad was produced in collaboration with Edinburgh agency, Gerry Farrell Ink, local animator and filmmaker Ross Hogg and with music from Jacuzzi General of Paradise Palms Records.
Since starting up in 2015, Bellfield has created 10 jobs at the brewery's home in Abbeyhill. It is now planning a strong comeback after a challenging period due to the pandemic.
When lockdown started in late March, the brewery lost 95% of its on trade sales overnight but it managed to quickly pivot to online sales, enjoying a dramatic increase in sales from customers in Scotland and across the UK via their online store at bellfieldbrewery.com.
Bellfield opened a new beer garden in July that features a series of outdoor booths, each separated from the one next door with acrylic panels, to facilitate socially-distanced drinking while keeping the friendly feel of a pub.
The brewery is also investing in additional vessels to further enhance its production capacity.
Speaking about Bellfield's plans for investment and its brand refresh, Alistair Brown, CEO said that the investment was being made, in part, to sustain the recent, dramatic growth in online sales as well as gaining new export listings. Bellfield already exports to Italy, Malta, Switzerland, UAE and Singapore.
He said, "We're working hard to grow our business, in the UK and internationally, to become a premium-positioned beer brand.
"We'll be investing heavily in ATL and BTL marketing to raise awareness and to win more listings and export sales. 
"Our new brewhouse and further planned investment in production kit, allows us to scale up production, to meet demand in the UK and overseas."
"The new branding and packaging builds on our heritage, while its impactful design reflects our beers and the spirit of the business.
"It also reflects our ambition to lead the way in brewing award winning beers that everyone can drink - all our beers  are vegan and gluten-free, hence our new strapline, "For The Free".
Looking ahead to 2021, and as restrictions ease further, Bellfield hopes to get back to hosting brewery tours and tastings as well as events at its brewery and taproom in Abbeyhill. To date this has included music, quiz nights, comedy shows, food and drink pairings, street food pop ups, private events and moving forward will include an arts-based programme, The Bellfield Sessions. 
For more information, photographs or to speak to someone, contact:
Giselle Dye on Giselle.Dye@bellfieldbrewery.com Tel: 07739 085023
or Anna Orr on Anna.Orr@bellfieldbrewery.com Tel: 07879 811 737
NOTES TO EDITORS
According to Marston's off trade beer report 2019/2020, the gluten-free beer category is growing YOY (34% compared to 2 years ago) and is currently worth £5m in the off trade. The report states that 'demand for gluten free food and drink is at an all time high and the market is expected to be worth around £4.8billion globally by 2021.' The report notes that only a small proportion of those buying gluten-free products are actually diagnosed coeliac; others buy into the perceived health benefits, especially younger consumers.
Bellfield beers are available online via our own website, Amazon and online retailers such as Beerwulf; in selected branches of Sainsbury's in  Scotland and good bottle shops here and across the UK. Bellfield beers are also increasingly available on draught across central Scotland and London.
Bellfield Brewery www.bellfieldbrewery.com; Twitter @TheBellfield; Facebook @BellfieldBrewery; Instagram: @bellfieldbrewery
Bellfield beers are exclusively gluten free and vegan. They are Coeliac UK accredited and carry the 'crossed grain' symbol and also registered with the Vegan Society. Craft brewed in small batches using the simplest ingredients: Scottish water, malts from Crisp and Fawcetts, the best hops that Bellfield can source from around the world and carefully chosen yeasts, the beers include Bohemian Pilsner (4.5% ABV) an award winning, classic Czech pilsner, Lawless Village IPA (4.5% ABV) an award winning, American IPA; Session Ale (3.8% ABV) a moreish golden ale and Craft Lager (5.2% ABV), a modern interpretation of a classic lager as well as seasonal specials and one offs, usually via the taproom and local pubs in Edinburgh.
---
Also in Lastest News from Bellfield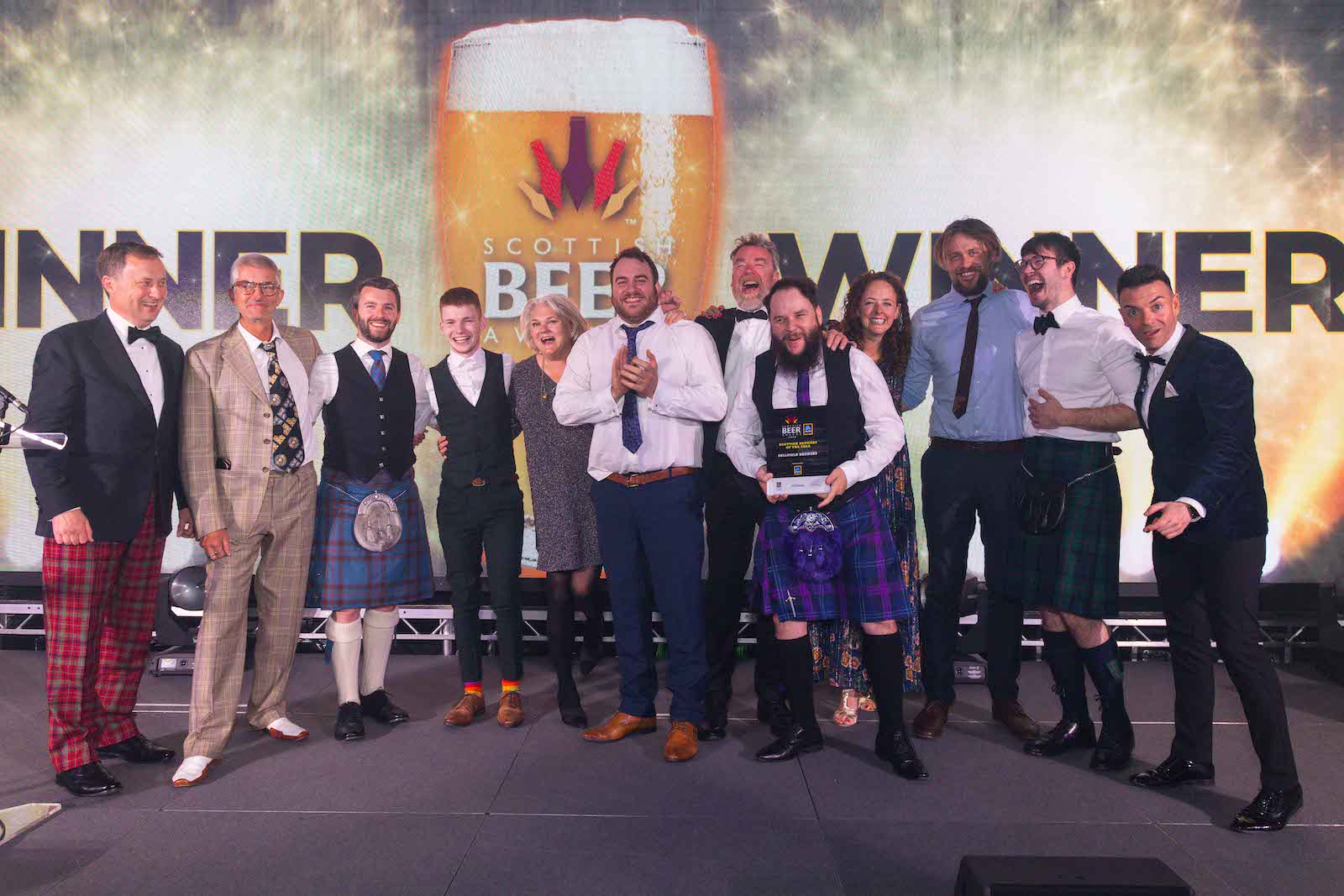 Edinburgh's Bellfield Brewery won four awards at last week's Scottish Beer Awards, winning three medals in the taste awards and the ultimate prize of the night, "Scottish Brewery of the Year", sponsored by Aldi.
Bellfield's Vienna Secession Lager won gold for "Best Amber or Dark Beer", their Craft Lager won silver for "Best Lager" and Wild Shore Saison won bronze (out of 27 finalists!) for "Best Session Beer".