Bellfield is festive ready – Taproom wood burner, new fully covered Beer Garden and heated booths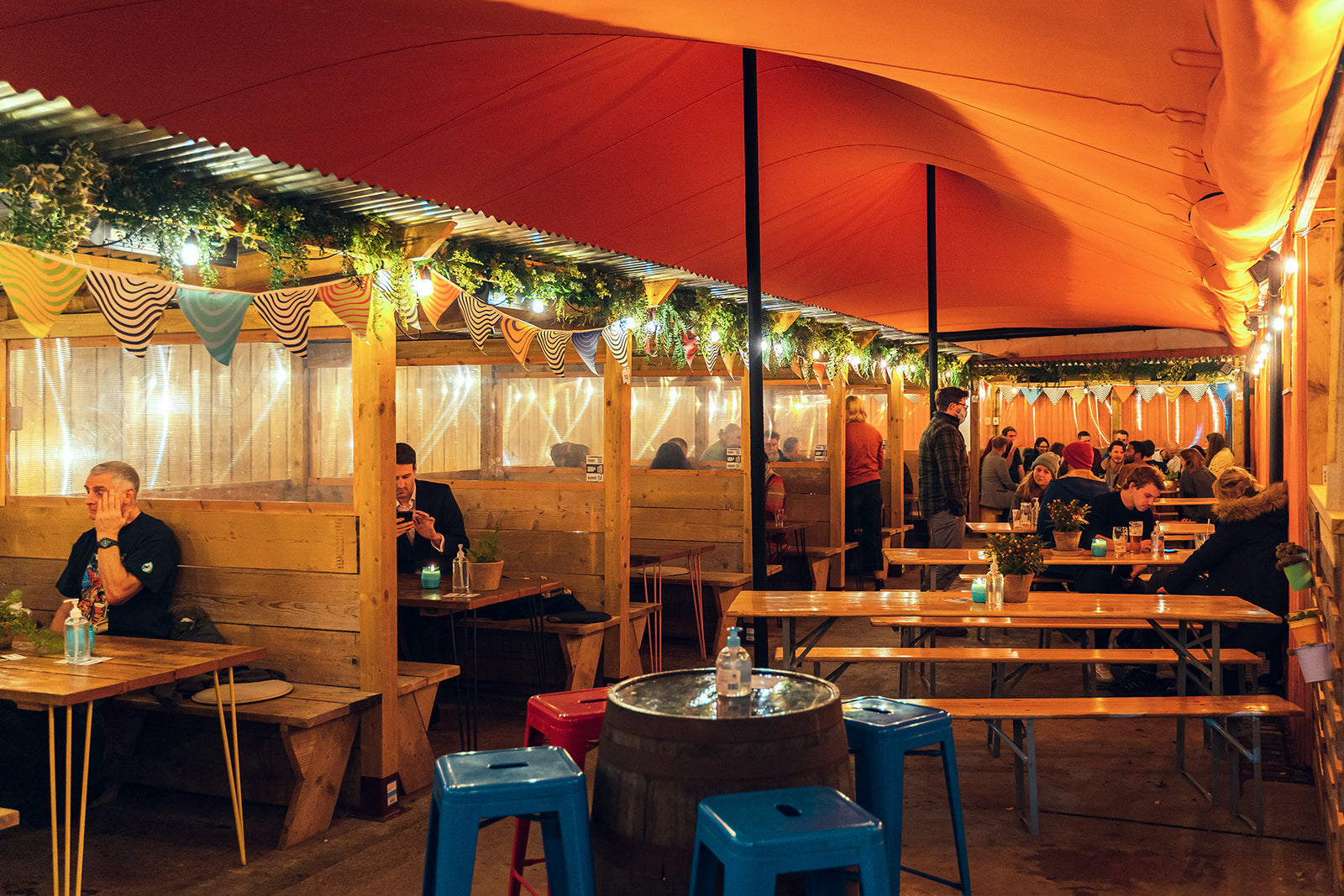 Looking for a perfect festive venue for your Christmas party, team drinks or get together with friends and family? 
Bellfield tap room and beer garden has you covered.
You'll enjoy a Covid safe environment, first rate service to your table, your pick of award winning draught beers brewed next door (as well as guest beers), organic wines, small batch spirits and soft drinks. 
Best of all, we'll do all the serving and tidying, leaving you free to enjoy yourselves.
Every weekend (Thu-Sun) we have a visiting 'pop up' serving delicious freshly cooked food from our kitchen (with vegan and gluten free options as standard) or you can also order in from a local takeaway or from the nearby Safari Lounge. Full details are available on our Pop-Up Food Calendar page.
We also have a special Christmas Food and Drinks Package available from the 20th to the 24th December in partnership with 305 Kitchen - prices per person from £22-£29 though you're welcome to just book a table for drinks.
We're now taking bookings for groups of up to 50 people and we can accommodate you at tables in our cosy (wood burner heated) Taproom, in our heated booths or in our fully covered beer garden. 
If you prefer one long or large table for a group, we can do that too. 
 Just email taproom@bellfieldbrewery.com or phone us on 0131 656 9390 to discuss your requirements.
Beer Garden Covered with the Big Orange Tent
We have now installed our brand new 'stretch' tent which covers the whole beer garden including the booths, creating a cosy wind and rain-free space for (warmer) outdoor socialising right through the winter.
Lit with string lights, warmed with heaters and with cosy blankets available, you'll be able to enjoy being 'outdoors' but be warm and sheltered from the weather.
The Beer Garden is also a perfect party space for private hires and events  (Monday-Thursday, not available weekends, sorry).
Some of our regulars may be starting to wonder, 'What's with the burnt orange colour?'.
We didn't actually choose the colour of our outside walls; it chose us! When we first found Stanley Place in 2016 it was already that colour and since then we've grown to love it. It makes the space feel sunny, even on the dreichest of Edinburgh days.
So when we were asked 'What colour stretch tent do you want?' - there was only one answer. Burnt Orange of course!
Festive Beer Specials - 80/- and Totally Wired Stout 
Our brewers have been working hard to produce some very special festive beers for the Taproom.
We are delighted to welcome back our 4.8% ABV 80 Shilling, a festive special that was first brewed for the Taproom in late October 2020 (just before the festive lockdown) and proved very popular with customers and the team alike. It will be available from early December in cask from the Taproom and in 5 litre mini casks from our online store for UK wide delivery. 
Totally Wired Stout at 7% ABV is a brand new beer brewed with cold pressed coffee from the amazing Obadiah Coffee company. They roast their coffee from their premises just the other side of the railway tracks from our Brewery in Abbeyhill. 

A strong, rich and full-bodied dark stout, the infusion of cold brew coffee and vanilla beans amplifies this beer's already complex espresso and chocolate character. It will be available in keg and cask (the latter very limited) from early December in the Taproom and in 5 litre mini cask from our online store for UK wide delivery.
---
Also in Lastest News from Bellfield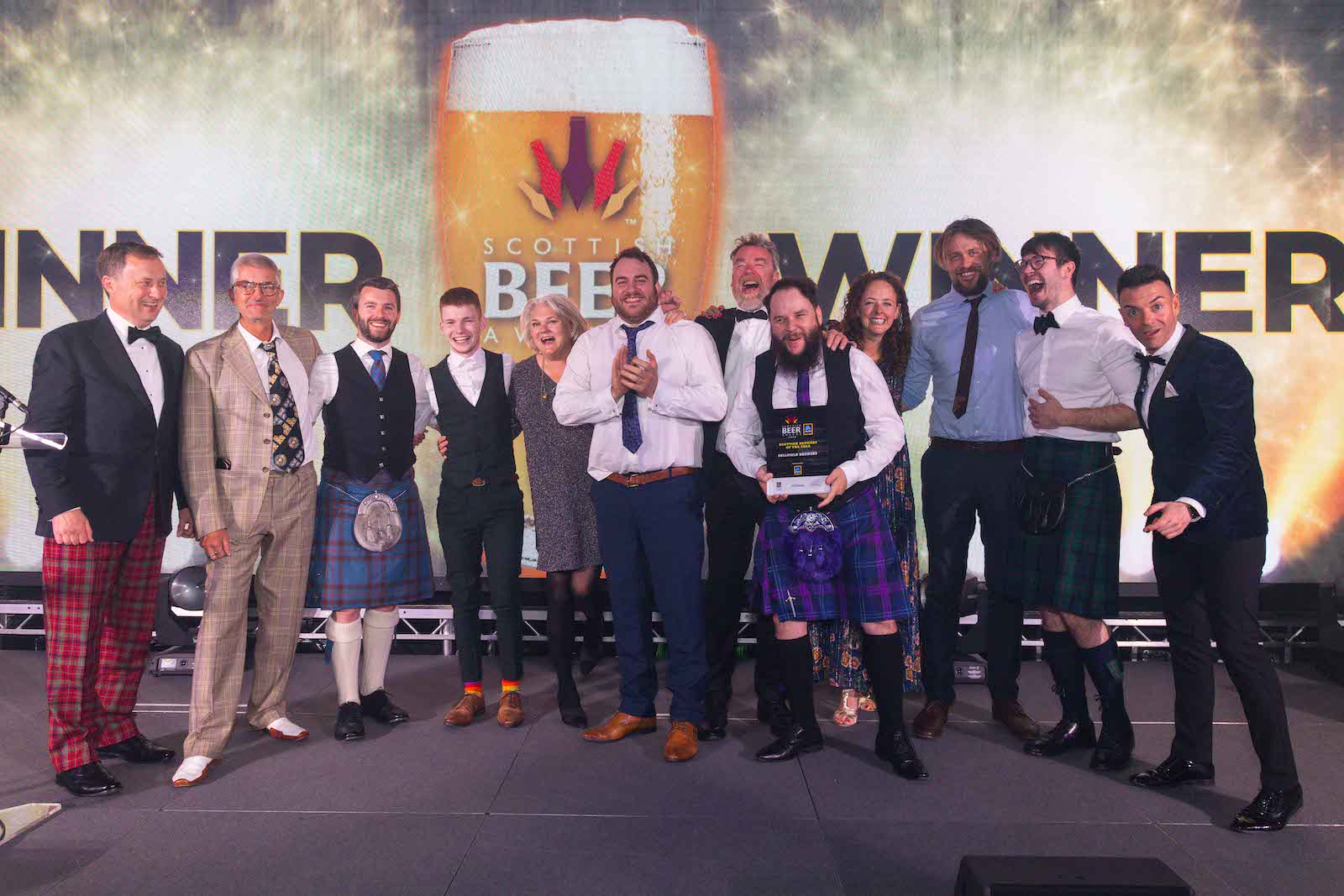 Edinburgh's Bellfield Brewery won four awards at last week's Scottish Beer Awards, winning three medals in the taste awards and the ultimate prize of the night, "Scottish Brewery of the Year", sponsored by Aldi.
Bellfield's Vienna Secession Lager won gold for "Best Amber or Dark Beer", their Craft Lager won silver for "Best Lager" and Wild Shore Saison won bronze (out of 27 finalists!) for "Best Session Beer".