Christmas at Bellfield Taproom & Beer Garden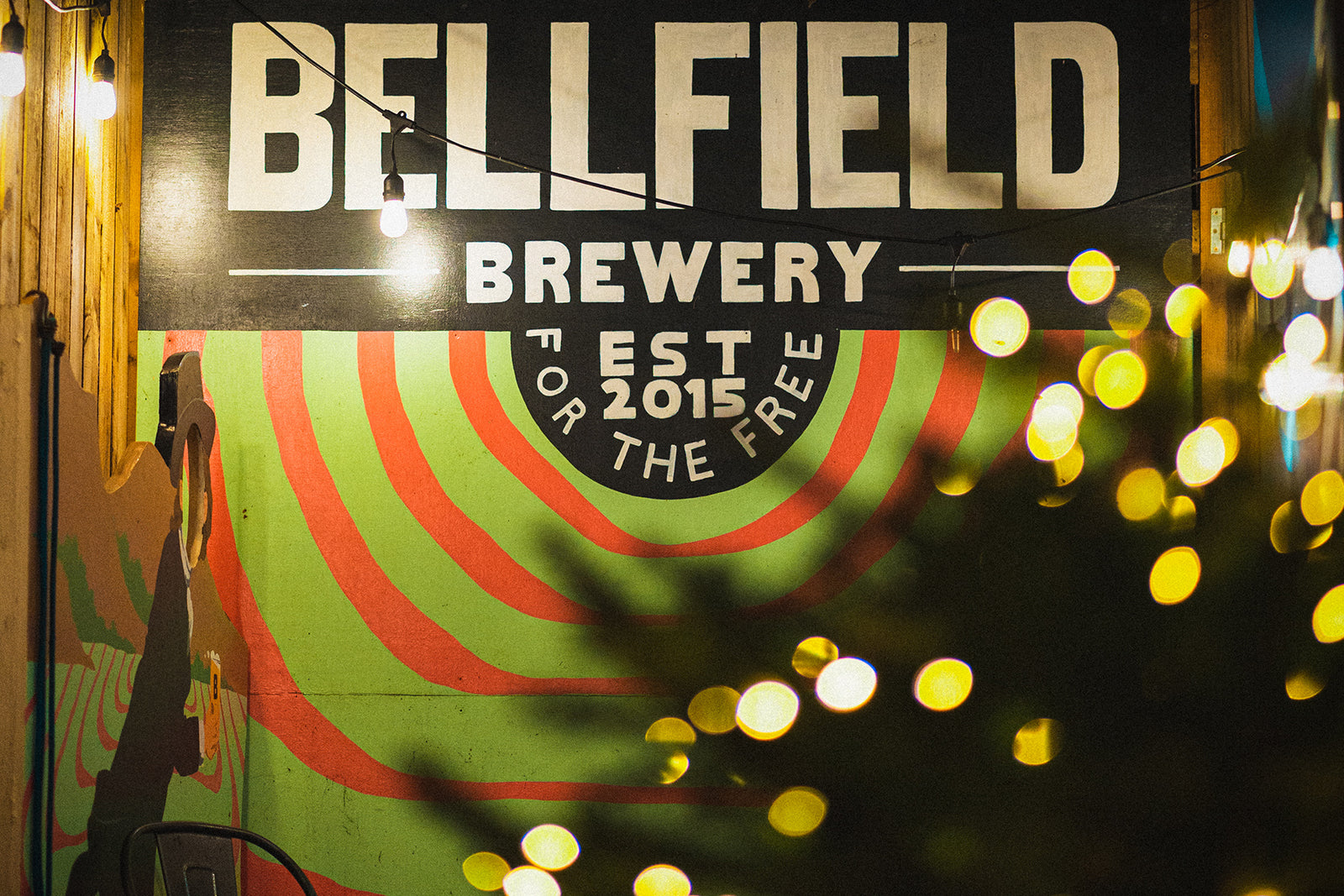 If you're looking for a perfect festive venue for your Christmas party, team drinks or get-together with friends and family, the Bellfield Taproom and Beer garden has you covered.
We offer a range of drinks and food deals, award-winning draught beers brewed in our brewhouse next door, guest beers, carefully selected wines, cocktails, small batch spirits and soft drinks from small producers.
Food and Drinks Packages
We have a special Christmas Food and Drinks Package available from the 7th to the 24th of December. Simply add to your reservation when making a table booking in the Taproom or covered beer garden. Prices from £20 per person for two courses with various drinks packages also available. You are of course very welcome to just book a table for drinks.
We can offer bookings for large and small groups and we can accommodate you at tables in our cosy Taproom (with a wood-burning stove), in our heated outdoor booths or in our fully covered beer garden (outdoor heaters and blankets).
If you prefer one long or large table for a group, we can also make that work too.
There's a free 20cl Bellfield spirit bottle of your choice for bookings made before the end of October!
Book a Taproom or Covered Beer Garden table or email taproom@bellfieldbrewery.com or phone us on 0131 656 9390 to discuss.
Christmas Set Menu
Starters
Carrot & Coriander Soup w/ ciabatta. (gf, vg)
Vegetable Pate with onion chutney and crackers. (gf, vg)
Breaded Camembert with Cranberry Sauce. (gf, v)
Mains
Carved Turkey (gf)
or
Sage & onion marinated Ch*kn (gf, vg)
Served with roasted and mashed Potatoes, sage & onion stuffing, chipolatas, brussel sprouts with candied chestnuts, chantenay carrots, broccoli, maple roasted parsnips and braised red cabbage, served in a massive Yorkshire pudding with Bellfield Session Ale infused gravy. (gf, vg)
Desserts
Chocolate & Clementine Torte with caramelised orange. (gf, vg)
Blood Orange & Mango Sorbets. (gf, vg)
Events - for team nights out, friends and family nights out, or just you and the dog!
There's a live music session every Sunday from the 9th October curated by our friends at The Soundhouse, Quiz nights every Wednesday with the legendary Gregor, our quizmaster extraordinaire and DJ Dolphin Boy playing every Thursday – with more events to be confirmed.
We are also running Brewery Tours and Tastings every Friday, Saturday and Sunday and Beer Pairings with delicious Mellis cheeses, Nairns oatcakes and Charcuterie from East Coast Cured. These make a great activity to do with a bunch of friends or work colleagues for a team night out.
Dogs are welcome
We love dogs and most of us at Bellfield have one. There's Bruno (wirehaired dachshund); Olive (labradoodle); Frida (schnoodle); Hester (Border terrier). You'll find water bowls for them to quench their thirst after a long walk in Holyrood Park. And free dog biscuits made with the lovely, spent grain that's left over from our brewing process. 
All we ask is that you please make sure your dog is kept under control and close to your table.
Beer Garden Covered with the Big Orange Tent
We have just reinstated our 'stretch' tent which covers the whole beer garden including the booths, creating a cosy wind and rain-free space for outdoor socialising right through the winter.
Lit with string lights, warmed by outdoor heaters and with cosy blankets available, you'll be able to enjoy being 'outdoors' but warm and sheltered from the weather.
The Beer Garden is also a perfect party space for parties, events and other gatherings.
---
Also in Lastest News from Bellfield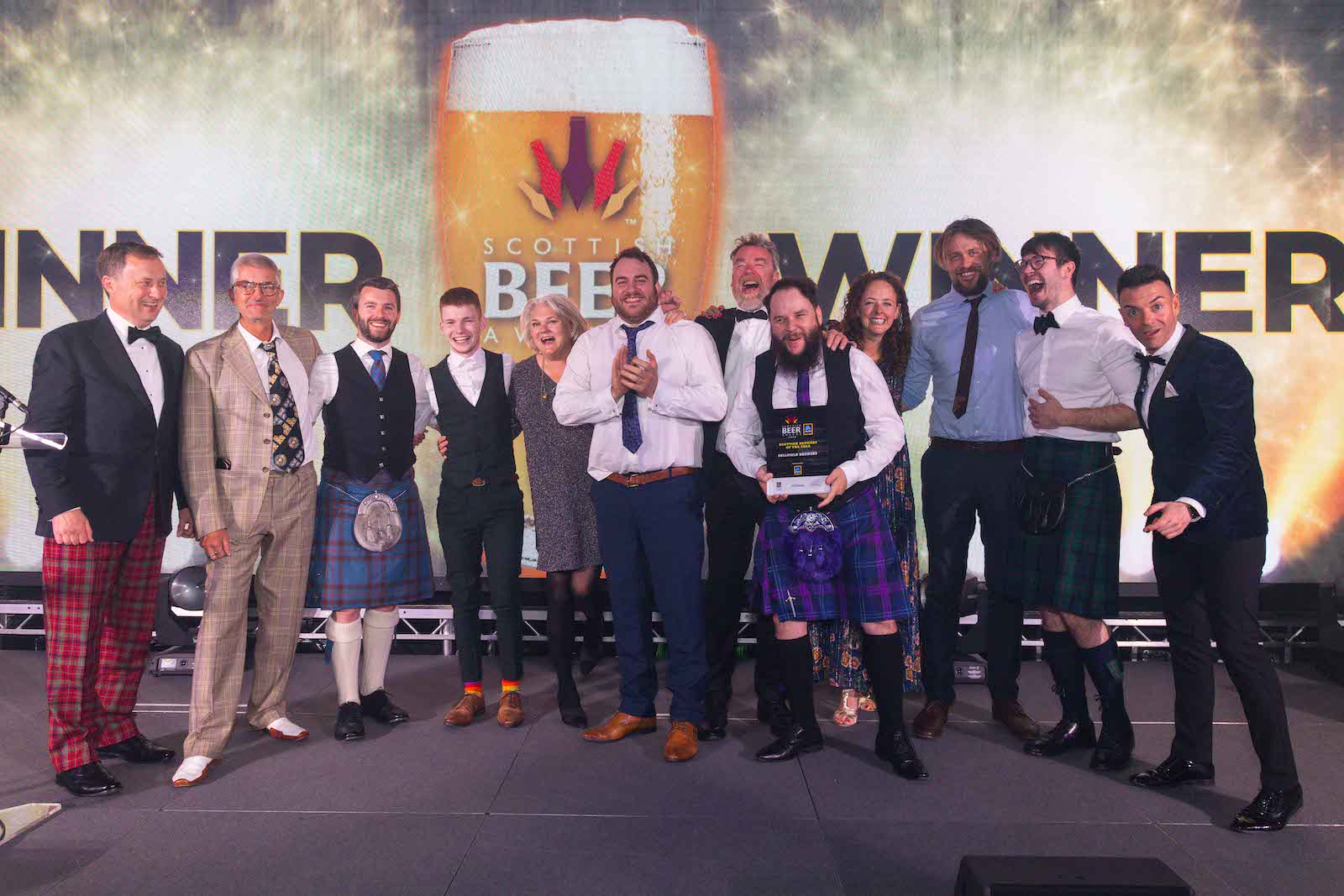 Edinburgh's Bellfield Brewery won four awards at last week's Scottish Beer Awards, winning three medals in the taste awards and the ultimate prize of the night, "Scottish Brewery of the Year", sponsored by Aldi.
Bellfield's Vienna Secession Lager won gold for "Best Amber or Dark Beer", their Craft Lager won silver for "Best Lager" and Wild Shore Saison won bronze (out of 27 finalists!) for "Best Session Beer".