Edinburgh gluten-free brewery Bellfield launches first beers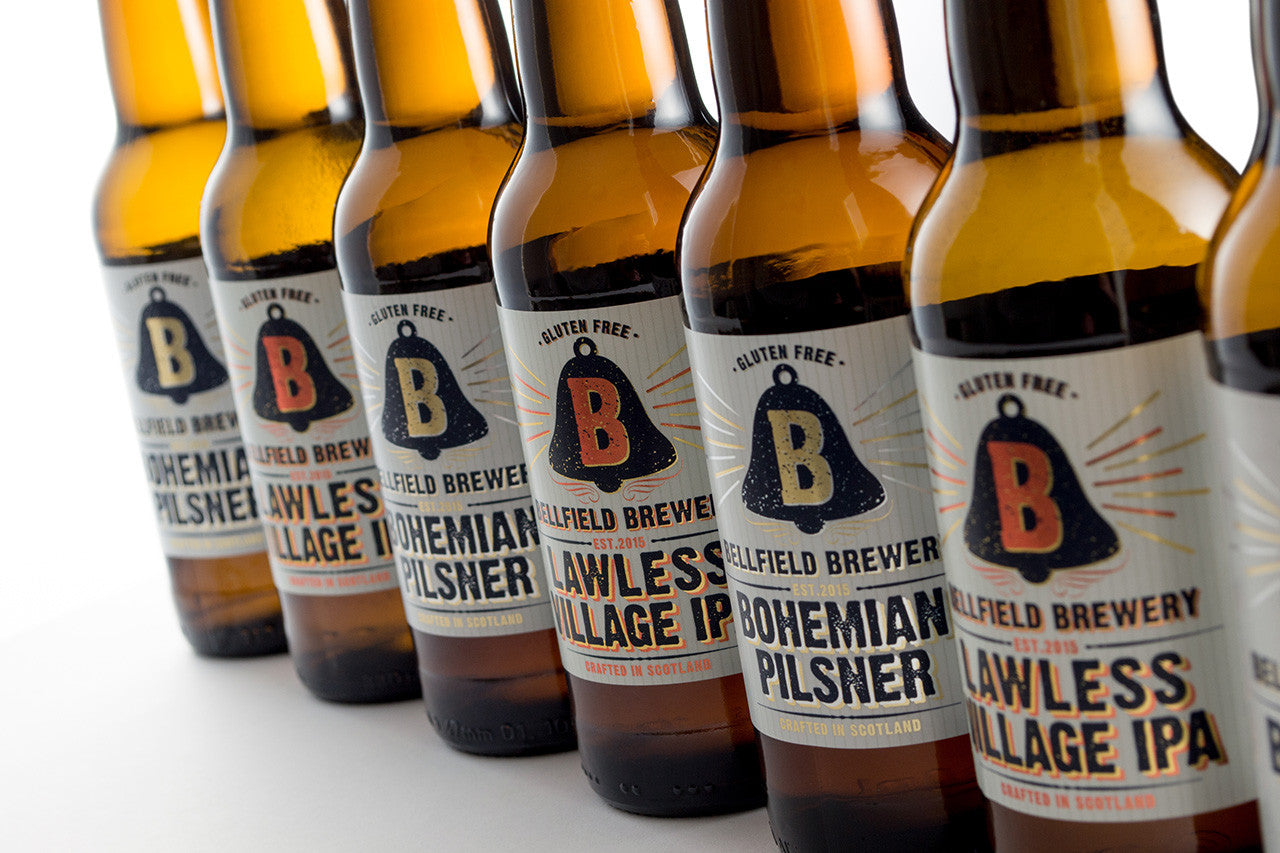 Press release: 17 March 2016
Bellfield Brewery, the first entirely gluten-free (GF) craft brewery to brew in the UK, will launch its first two beers at the Allergy & Free From Show in Glasgow this weekend (March 19).
Based in Edinburgh, Bellfield Brewery is now brewing craft beers that are naturally gluten free, all of them certified by Coeliac UK and carrying the "crossed grain" symbol.
The first two beers from the brewery are an IPA called Lawless Village named after the area of Portobello where the founders come from. A traditional pilsner-type beer – Bellfield Bohemian – has been brewed using traditional Noble and Saaz hops.
Other beers will follow including a golden ale, a stout and other IPA and lager-style beers.
Bellfield Brewery has also announced a move into its own premises in the Abbeyhill area of the city.
The fit-out of the 2500sqft premises starts this month and is due to be complete – with the brewery fully operational – by the summer.
Bellfield Brewery expects to create between five and seven sustainable, full-time equivalent (FTE) jobs in the next three years.
The brewery is investing heavily in research and development with work being led by its brewer Kieran Middleton, working closely with master brewer David Smith. This work is focused on recipe development and brewing of beers that are naturally gluten-free using both conventional and unconventional ingredients and processes.
Bellfield has already collaborated with Heriot-Watt University's International Centre for Brewing and Distilling on an "innovation voucher" project completed last November. Led by Professor James Bryce and post-graduate Matthew Pauley, this project successfully developed a recipe for entirely gluten-free beer using unconventional grains such as rice, millet, buckwheat and sorghum.
In the last 12 months since announcing its plans, Bellfield Brewery has:
Won Wild Edge funding worth £10,000 to drive forward innovation and R&D
Secured £180,000 of funding from 166 investors on Crowdcube
Been accepted for Scottish Enterprise's prestigious Growth Pipeline scheme, as a business with strong potential for growth and international sales
Founded by a group of friends, two of whom have coeliac disease themselves, Bellfield Brewery has ambitious plans to secure UK and European distribution and has already had interest from several distributors and from pubs and restaurants across the UK.
Founder Marie Brown said: "We believe there is very significant market opportunity to exploit the sweet spot between the continuing popularity of craft beers and the momentum in the demand for gluten-free food and drink, both in the UK and internationally. We're the first dedicated, gluten-free craft beer brewery in the UK, and our mission is to make great-tasting beers, that just happen to be GF. The thing that most coeliacs miss most once they're diagnosed with the disease is seriously good, tasty beer and we aim to put that right."
At present, there is limited availability of gluten-free craft beers in the licensed on-trade and Bellfield Brewery hopes to address that while also supplying independent specialists and multiple retailers with products that consumers can enjoy at home.
-ENDS-
For further information please contact Karen Peattie on 07947 075 937
Notes
For further information on Bellfield Brewery go to www.bellfieldbrewery.com
There is a "big opportunity" for GF beer "but it hasn't taken off to any degree so far", according to Mintel's global market analyst, Chris Brockman. Mintel reports that one in five Brits is now regularly buying gluten-free products and "Free From" sales in the UK topped £0.5bn for the first time in 2014, after a 15 % increase. For further info see notes from the Free From food summit organised by Food & Drink Innovation Network on September 10, 2014. Development Of Global Free From Market – Mintel
Bellfield Brewery beers are accredited as gluten-free by Coeliac UK and feature the internationally recognised "crossed grain" symbol that indicates they are safe for people who are gluten-intolerant and coeliac.
Coeliac disease is a lifelong autoimmune disease caused by intolerance to gluten. One in 100 people have the condition. Once diagnosed, it is treated by following a gluten-free diet for life. For further information, please visit the Coeliac UK website. Most people who are gluten-intolerant avoid traditional beers. Those who have coeliac disease have to stop drinking traditionally-produced beer entirely.
---
Also in Lastest News from Bellfield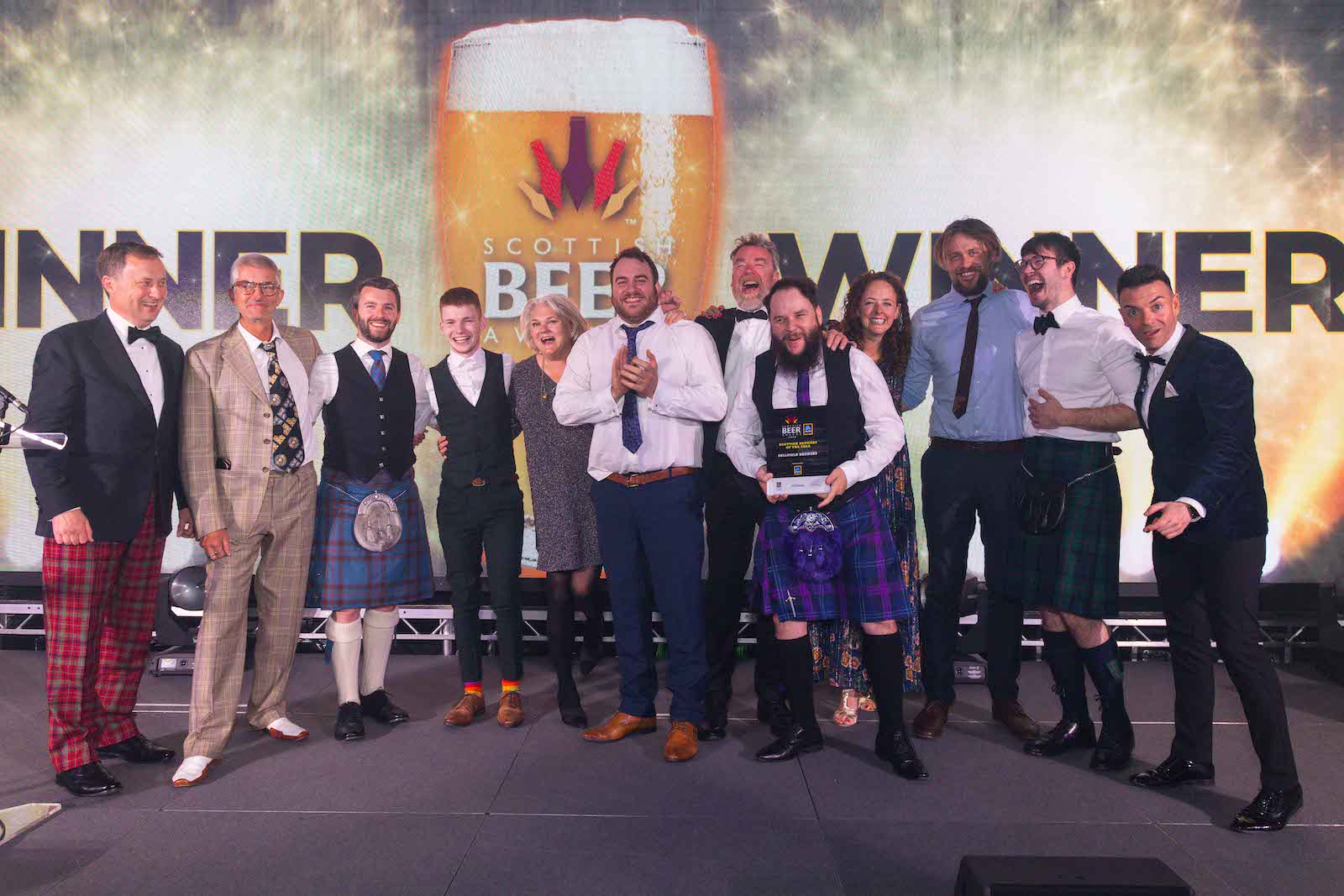 Edinburgh's Bellfield Brewery won four awards at last week's Scottish Beer Awards, winning three medals in the taste awards and the ultimate prize of the night, "Scottish Brewery of the Year", sponsored by Aldi.
Bellfield's Vienna Secession Lager won gold for "Best Amber or Dark Beer", their Craft Lager won silver for "Best Lager" and Wild Shore Saison won bronze (out of 27 finalists!) for "Best Session Beer".