Missing the pub? Pour a pint at home instead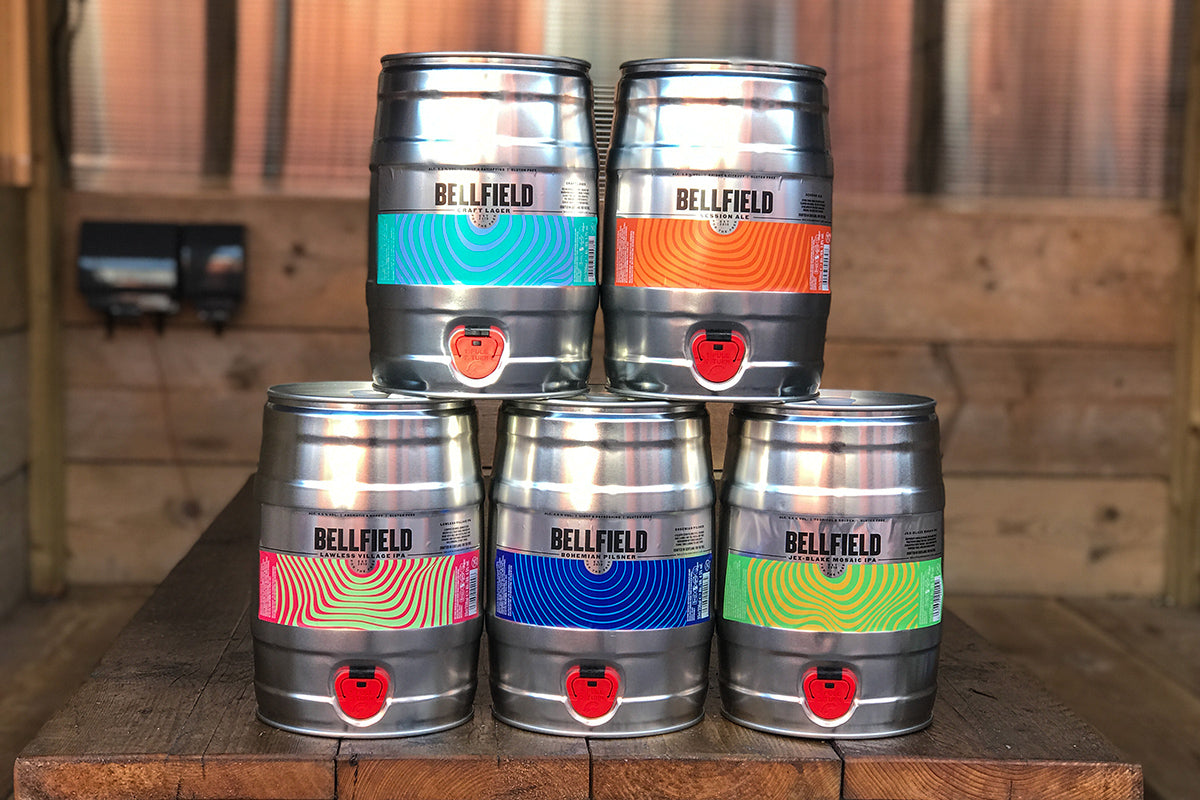 Since launching them during Lockdown in late April, our 5-litre mini casks – wee 'barrels of joy' as one of our customers called them – have been flying out of the brewery, tucked into bicycle panniers and car boots or packed into boxes for delivery across the UK.
Filled with cask-conditioned ale – Lawless Village IPA, Session Ale and Jex-Blake Mosaic IPA - they've proved irresistible to people missing a 'real' pint.
We had lots of people asking us to put our award-winning Craft Lager and Bohemian Pilsner in the same format.
 So we're pleased to say that finally the bit of kit we'd been waiting for arrived from Germany; this allows us to fill mini-kegs with filtered, carbonated beers like lagers and pilsners. The Craft Lager mini-kegs and Lawless Village IPA mini-casks will be available from this weekend (21st November) and we plan to fill a load of Pilsner mini-kegs and Jex-Blake Mosaic mini-casks next week. 
We also have another  new special brew lined up; our Eighty Shilling will be available in 5-litre mini-cask from early December and will be well perfect for a festive pint or a half and a half.
Please keep an eye on social media and our website for availability – you can ask to be alerted when each of the products become available via our online shop. 
So what's the difference between a mini cask and a mini keg?
Well, they both look the same. A 5-litre, aluminium/tin, fully recyclable barrel. However, while the beer we put into the mini-casks and mini-kegs is brewed in exactly the same way as the beer you'd usually enjoy on draught, in our tap room or in a pub, the difference lies in the way they're filled - and the way you treat them at home.
Mini casks
Our mini casks – just like the 9-gallon casks we supply to pubs – are filled with cask-conditioned ale that's essentially a 'living' product; it contains live yeast which continues to condition the beer, and it goes through a secondary fermentation in the cask until it is served. Carbon dioxide is released naturally to create gentle bubbles in the beer and it needs to be drunk fresh – ideally within 3 or 4 days of opening the cask. 
It's not filtered and can be slightly 'cloudy' in appearance depending on how long it has been left to settle and should be served cool but never cold (if it's over-chilled, the secondary fermentation process stops – the beer essentially goes to sleep). 
We recommend keeping the mini-cask cool in a porch or garage and opening the top vent and then letting the beer inside rest and settle for a few hours – even up to 24 hours – before pouring a pint. This helps to 'wake the beer up' again and some people say it improves the flavour though it is perfectly fine to drink immediately.
Mini kegs
Meanwhile, kegs are generally best suited to beer styles that require higher levels of carbonation, like traditional, continental styles such as pilsners and lagers. 
Beer that goes into keg and that's served 'on tap' in pubs, is usually filtered (so it is clear in the glass) and always carbonated before it's kegged.  It's generally served colder than cask beer; we chill down all our 30-litre kegs in a cold room before pouring in our tap room - just as any pub would do. 
Because the beer inside a mini-keg has been filtered and doesn't contain live yeast, it doesn't need as much time to settle as a mini-cask and is good to drink after a couple of hours in the fridge. 
It also needs to be drunk more quickly than a mini-cask – we'd recommend within a day or two – so you don't lose the 'fizz'. 
We published a blog earlier in there where you can read more about the difference between keg and cask. 
So, if you're yearning for a real pint, just like you'd get in the pub, you'll find both 5-litre mini casks and mini kegs of our beer (8.8 pints) in our online shop for local (contactless) collection from our taproom.
And if you live outside of Edinburgh, we offer UK wide delivery, to your door within 48 hours. 
Whichever you choose they will have a 6-week shelf life.
Recycling
We've had a lot of people asking if they can get the mini casks and kegs refilled or how they can recycle them. 
A couple of our more creative customers have turned them into plant pots, outdoor light fittings and even a wee beach stove.
Unfortunately we can't refill them because they'd need to be sterilised and the vents and taps replaced – a complicated process.
But we're happy to say that because they're made of tin plate (tin and aluminium), they can be recycled with domestic waste, along with your tins. The plastic handle, tap and vent are all made of recyclable plastic.
Enjoy!
Cheers, Team Bellfield
---
Also in Lastest News from Bellfield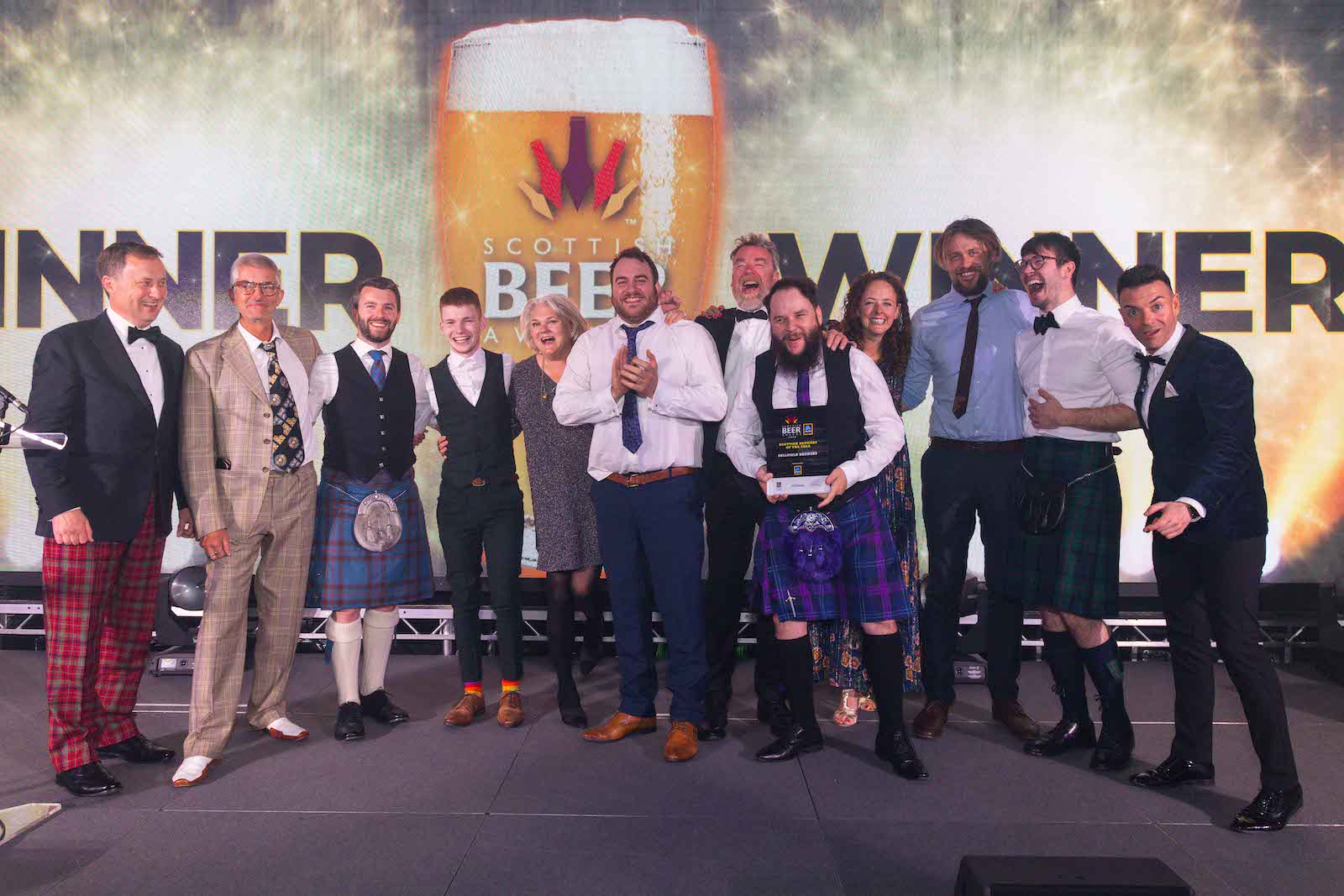 Edinburgh's Bellfield Brewery won four awards at last week's Scottish Beer Awards, winning three medals in the taste awards and the ultimate prize of the night, "Scottish Brewery of the Year", sponsored by Aldi.
Bellfield's Vienna Secession Lager won gold for "Best Amber or Dark Beer", their Craft Lager won silver for "Best Lager" and Wild Shore Saison won bronze (out of 27 finalists!) for "Best Session Beer".