People's Republic Hazy IPA – a Bellfield and Triple Point Brewing Collab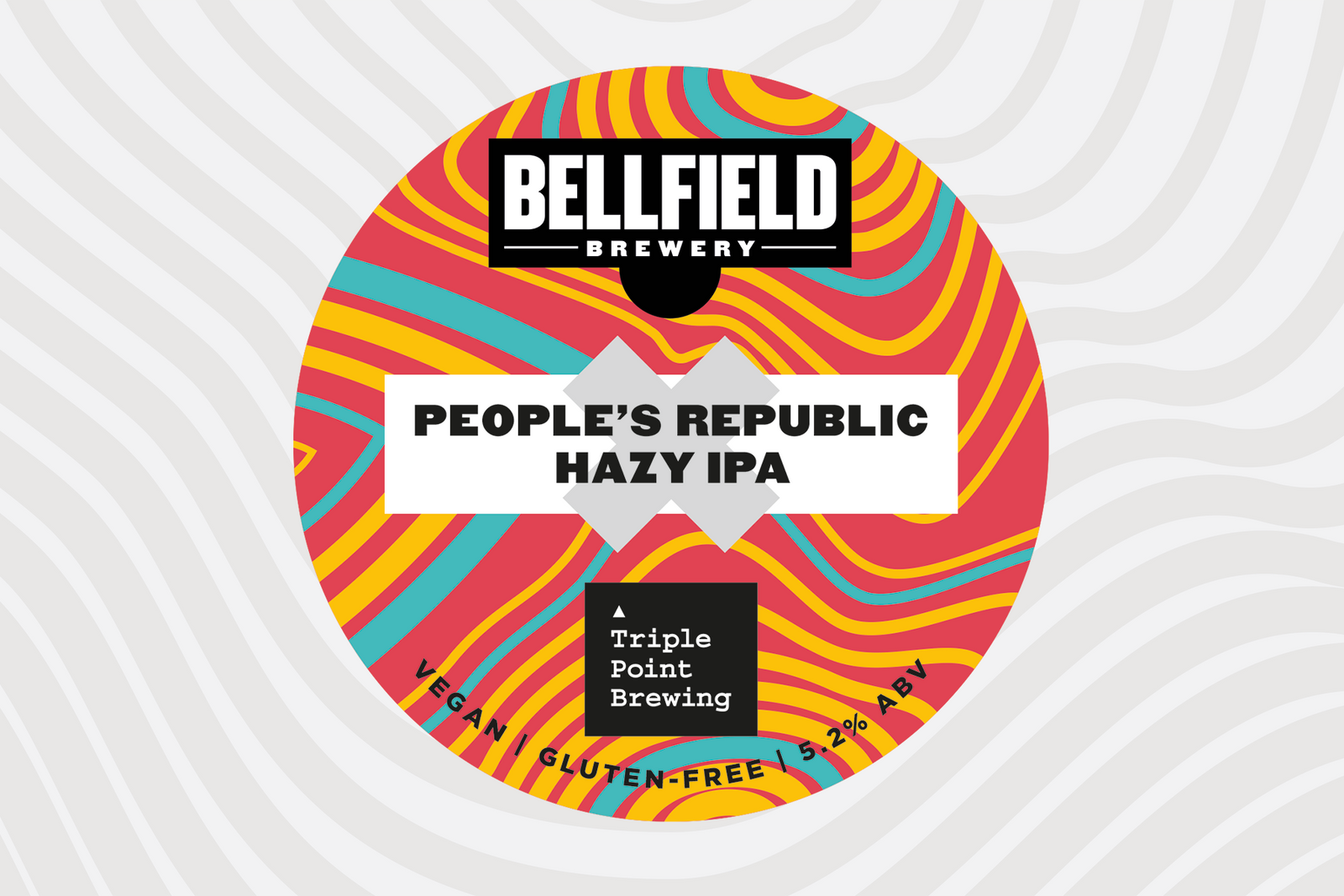 The Lawless Village of Portobello and the People's Republic of South Yorkshire have come together to brew this bolshie, hazy American IPA. If you'd like to be one of the first people to try this new brew, book a table for the first pour at our Taproom. 
Steel City Brews
We present to you Bellfield Brewery's first collaboration beer. A hazy American IPA brewed in collaboration with Sheffield haze stalwarts Triple Point Brewing, named People's Republic (5.2%) in honour of the Steel City's radical brewing and political history.
Sheffield's beer culture is rich and well-established. If the University of Sheffield are to be believed it can count itself "The World's Best Beer City" — well they would say that wouldn't they.
Given Auld Reekie's own worthy claim to that title, it seemed right to bring the innovative spirits of two centres of brewing together; mashing, boiling and fermenting solidarity into liquid form.
For this we looked to an innovative and accessible brewery right in the heart of Sheffield - just down the road from Sheffield United's Bramall Lane.
A family brewery just like ourselves, Triple Point Brewing was founded by father and son team, Mike and George Brook, bolstered by the over 30 years of industry experience brought by Head Brewer, Alex Barlow.
Any brewery with the strapline "THE BEER COMES FIRST" was bound to catch our attention.
Hazed and Infused
Anyone familiar with Triple Point's DYAD series will be well aware of their strength in brewing New England-style IPAs (NEIPA for short (pronounced: neepah)).
The NEIPA has taken the brewing world by storm in recent years, heralding a softer, sweeter generation of IPAs.
Think of the opaque, luminous pints more reminiscent of pulpy orange juice than beer's more traditional appearance (i.e. varying shades of brown).
NEIPAs are also intensely hopped, with brewers looking to add more and more additions of hops wherever they can throughout the brewing process. Dry-hopping has much to do with this; infusing the beer with hops both during and after fermentation, on-top of the more traditional additions during the brew's boil.
Arguably, the NEIPA has opened up craft beer to a whole new section of the drinking public, their lack of intense piney bitterness and emphasis on sweeter fruit flavours being a less daunting introduction to beers' diversity.
We've looked to Triple Point to assist us in creating a beer that would bring together our brewing ethos and experiences into perfect hazy harmony.
Alex and George from Triple Point enjoying the Bellfield Taproom.
People's Republic is a beer fresh with tropical fruit aromas matched against a complex grain bill of lightly kilned, biscuity malts and, most importantly, oats.
Oats are both a great gluten-free fermentable source of sugar for beer, and a critical way of achieving a NEIPA's distinct luxuriously thick and fuller mouthfeel.
Bellfield beers are often clear in complexion (or, 'bright' in brewing terms), with a brilliantly bitter crisp finish lingering long enough to make you think, "I"ll be having that again".
Pillowy soft and hazier in complexion, People's Republic is a Bellfield beer unlike any we've brewed before.
The softness should glide across your palate, carrying intense aromas from a combination of four American hops: Mosaic, Citra, Simcoe and El Dorado.
We've kept a discernible bitter hop finish to the beer, keeping it firmly in the IPA camp rather than fruit juice.
Sheffield is renowned for its cask tradition and we've stood firm to that. We'll be serving People's Republic both from keg, and from the hand-pull cask lines in our Abbeyhill taproom and beer garden.
A milestone brew for our brewery, People's Republic is a beer to fill up your senses… like a night out in Sheffield.
Where to find it!
Alongside Bellfield and Triple Point Brewing Taproom, People's Republic will be at the following pubs:
KEG
Dukes Corner, Dundee
Hanging Bat, Edinburgh
Holyrood 9A, Edinburgh
Monty's, Edinburgh
Old Eastway Tap, Edinburgh
Portobello Tap, Edinburgh
Red Squirrel, Edinburgh
Safari Lounge, Edinburgh
The Southern, Edinburgh
CASK
Black Cat, Edinburgh
The Bow Bar, Edinburgh
Cambridge Bar, Edinburgh
Dreadnought, Edinburgh
Persevere, Edinburgh
---
Also in Lastest News from Bellfield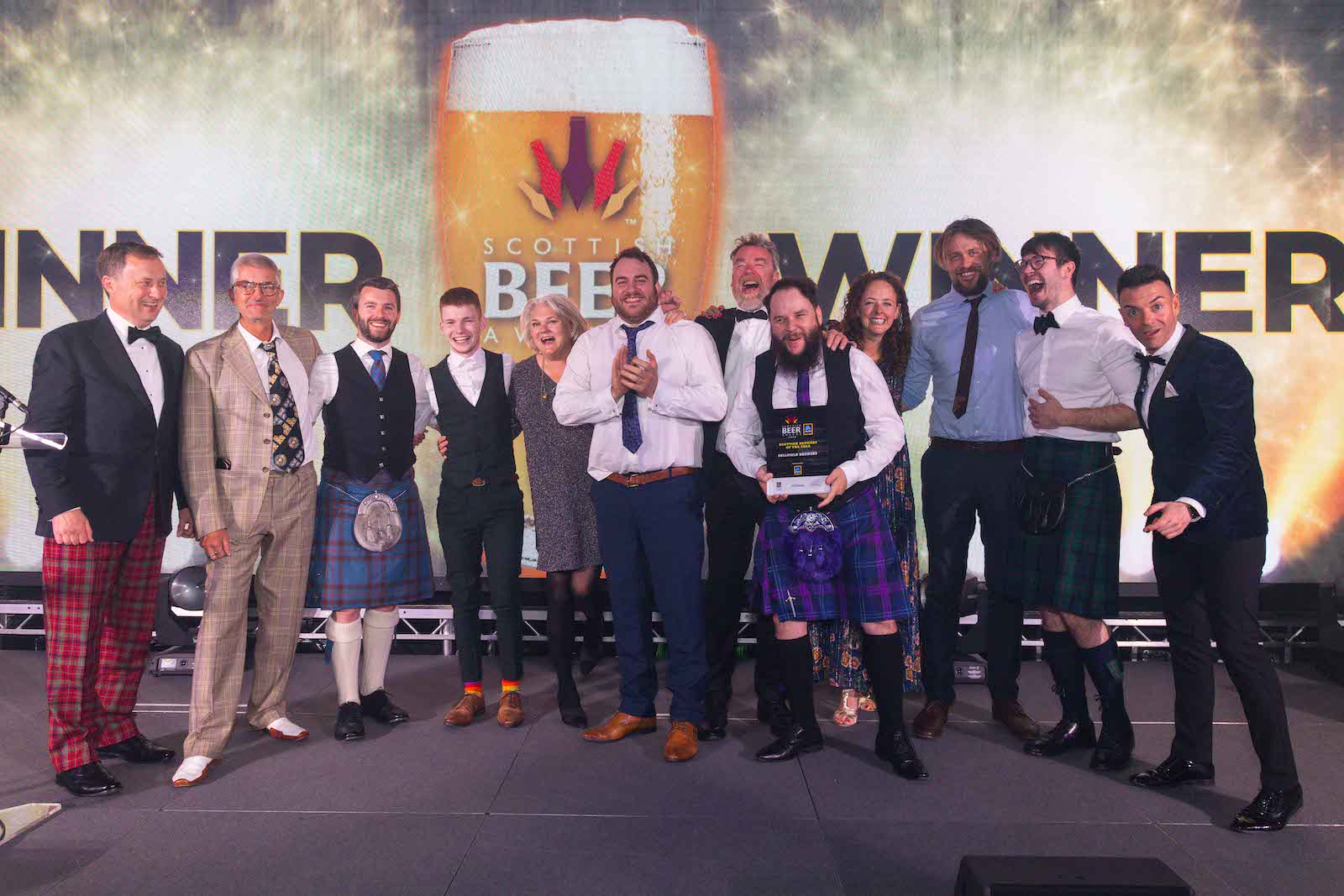 Edinburgh's Bellfield Brewery won four awards at last week's Scottish Beer Awards, winning three medals in the taste awards and the ultimate prize of the night, "Scottish Brewery of the Year", sponsored by Aldi.
Bellfield's Vienna Secession Lager won gold for "Best Amber or Dark Beer", their Craft Lager won silver for "Best Lager" and Wild Shore Saison won bronze (out of 27 finalists!) for "Best Session Beer".