Oktoberfest returns to Bellfield's Taproom and Beer Garden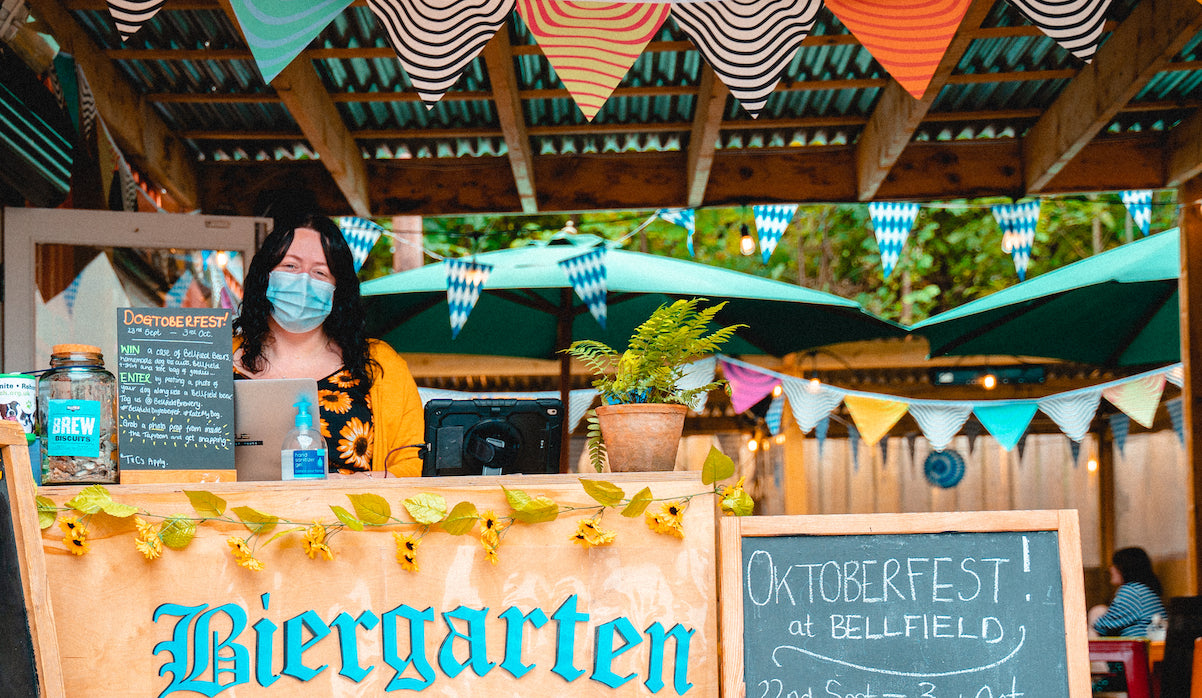 Inspired by a genuine love of the traditional Bavarian festival and great beer, we can't wait for you to see how we transform the atmosphere in our Taproom and Beer Garden to that of a traditional German Beer Hall.
We will be celebrating with authentic German beer and food for the duration.
Throughout our Oktoberfest celebrations, we'll have some of the best German beers pouring in our Taproom - including our ever-popular Old Town Alt Bier, which is on tap for the first time ever.
We're also getting in some amazing guest specials, not to mention everyone's favourite - Schofferhoffer.
As well as the beer, you can enjoy the finest, authentic German sausages, from the classic Bratwurst to Currywurst prepared by our own chef .
There's even something for those of you with four-legged companions: Dogtoberfest will take place 21st Sept - 2nd of October at Bellfield. 
 So what will be pouring?
Marzen
Bellfield Märzen Festival Lager (5.7% ABV) is a classic Märzen, brewed with all German hops.Traditionally this style of beer would have been brewed in March (hence the name), at the end of the brewing season, then conditioned and served at the start of the new season, celebrated at Oktoberfest. It's a highly drinkable style that's well worth celebrating. Our version is deep amber in colour and filled with bready/brioche and toasted malt character from the Vienna and Munich malts, with a balanced hop bitterness.  We've also used a small amount of buckwheat to aid head retention and to contribute a subtle spice and nuttiness to the flavour profile.
Old Town Altbier
Our 'Old Town Altbier' (5.3% ABV) will be exclusively released on draught in our taproom for Oktoberfest. Altbier is a style of top fermenting German ale, traditionally brewed around the city of Dusseldorf. Meaning 'old beer', the name is a nod to the fact that the style pre-dates the introduction of lager brewing methods into the region's brewing culture. During fermentation, an ale yeast imparts more esters, aromas and flavours into the product than a lager yeast, and therefore provides an exciting counterpoint to the malt and hop character of the beer. 
For our 'Old Town Altbier' the use of specialist dark malts provides the product with a beautiful copper colour, and imparts rich caramel, toffee and malt biscuit flavours. The malt-led profile of the beer is balanced with the use of two distinctive European hops - Slovenian 'Savinjski Goldings' & Czech 'Saaz'. These hops add a spicy, floral and a distinctly noble character to the beer.
 Mandarina Fest
 Our Mandarina Fest is a Oktoberfestbier collaboration with Triple Point (5.5% ABV).  Brewed in collaboration with our friends Alex and George of Triple Point Brewing, this amber-coloured beer is a perfect example of the classic Oktoberfest style. A celebration of the 'Mandarina Bavaria' hop - with its spicy and tangy marmalade character - this beer will match perfectly with a hearty portion of currywurst and pretzels! With several years of brewing and living in Central Europe, Triple Point's Head Brewer Alex can call on all his experience to help craft this classic beer style.
Full Tilt Imperial Radler
A collaborative project with our friends at Vault City, 'Full Tilt' is inspired by the totally tropical flavours of a certain pineapple and grapefruit-based fizzy drink. The addition of fresh pineapple and grapefruit juice during the fermentation imparts exciting fruit aromas and a zingy citrus tartness. This fruity character is enhanced by the base beer - a Citra-hopped oat pale ale - which gives a full body and creamy finish. Read our Full Tilt Blog.
Craft Lager 
One of our award-winning, core beers, Craft Lager (5.2% ABV) is a firm favourite with taproom customers. Old and New World hops - Ekuanot and Mandarina Bavaria - combine to produce a light fruit and floral character. This modern interpretation of a classic lager is biscuity and quaffable. 
Vienna Secession Lager 
A malt-forward, refreshing lager (4.4% ABV). The rich backbone of Vienna malt gives bready and toasty notes, whilst the addition of a gluten-free fermentable, rice, helps emphasise its crisp clean finish. Balancing this against floral, citrusy and spicy hops, we've conducted our own grand Mitteleuropean tour of Czech, German and Slovenian hops with additions of Sladek, Hersbrucker and Bobek.
Jex-Blake Mosaic
A luscious, single-hop IPA (5.6% ABV) brewed with Cryo Pop hops, this golden beer features juicy, tropical fruit aromas of pineapple and mango and pine and citrus flavours.
Double Lawless Village IPA
Brewed to celebrate our 100th brew on our kit at Stanley Place, this 9% DIPA is a supercharged version of our flagship IPA. Doubling the original recipe, with a few exciting extras added, this copper-coloured DIPA is packed with resinous pine, pithy orange and citrus fruit flavours. A robust, lingering bitterness is well balanced with a marmalade-style sweetness, and further hop character. 
Guest beers
Schöfferhofer Juicy Pineapple
A 2.5% Shandy / Radler from the Radeberger Gruppe in Frankfurt.
Triple Lemon Sour
A 4.2% ABV Fruited Sour from our friends at Top Out Brewery in Loanhead. A tongue-tingling, zingy and refreshing kettle Sour brewed with lemon zest, lemongrass and lemon thyme. 
Pop up food
We'll be serving typical Oktoberfest food: tasty German sausages, pretzels and potato salads -  with GF and vegan options available.  See the full menu here.
Dogtoberfest
Join us in person - or virtually. We'll be reprising our ever-popular social media competition - 'Rate My Dog' - and the highest-rated dog picture with us tagged in it will win an Oktoberfest beer box complete with Bellfield T-shirt, pint glass, pretzels handmade dog biscuits (baked from spent grain left over after our brewing).
We'll be running a social media competition with an optional donation for the Edinburgh Cat and Dog Home. The 3 highest-rated dog pictures posted with us tagged in it wins a taster case of Bellfield Beer, Bellfield Dog Biscuits (made with spent grain from our beer), Bellfield dog leads, (human) T-shirt and tote bag of goodies.
A little bit of history: about Oktoberfest
The festival has a long and illustrious history going back to 1810 and a royal wedding in Munich. The citizens of the city were invited to attend the festivities – including horse races - on the fields in front of the city gates. The decision the following year, to repeat the horse races gave rise to the tradition of the Oktoberfest which eventually grew into a huge event, complete with fairgrounds and beer stands, where visitors could quench their thirst.  At the end of the 19th century, the beer stalls were replaced by the beer tents and halls, which landlords set up with the backing of breweries and the event has continued to grow into the festival we're all now familiar with.
Oktoberfest beers
Traditionally Oktoberfest beers would have all been varying shades of dark with smoky notes. This is due to the variable nature of malting techniques. Often malt was toasted over a direct fire which led to some of it burning and toasting. Nowadays we have much more sophisticated machinery that allows us to kiln malt without altering the colour or burning it, which lead to the invention of lighter beers the world over.  
Book your table at Bellfield Taproom and Beer Garden.
---
Also in Lastest News from Bellfield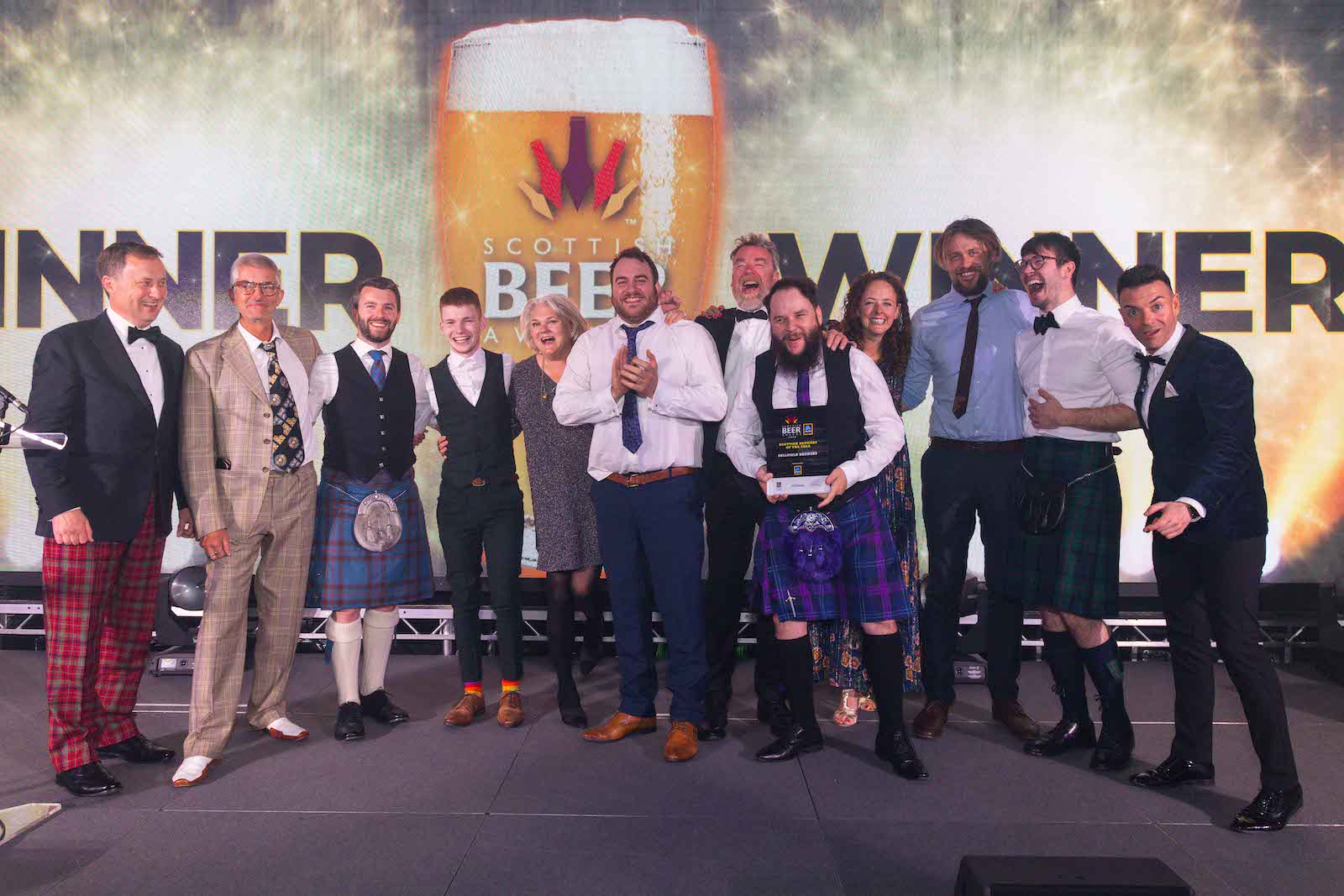 Edinburgh's Bellfield Brewery won four awards at last week's Scottish Beer Awards, winning three medals in the taste awards and the ultimate prize of the night, "Scottish Brewery of the Year", sponsored by Aldi.
Bellfield's Vienna Secession Lager won gold for "Best Amber or Dark Beer", their Craft Lager won silver for "Best Lager" and Wild Shore Saison won bronze (out of 27 finalists!) for "Best Session Beer".