Oktoberfest 2020 Blog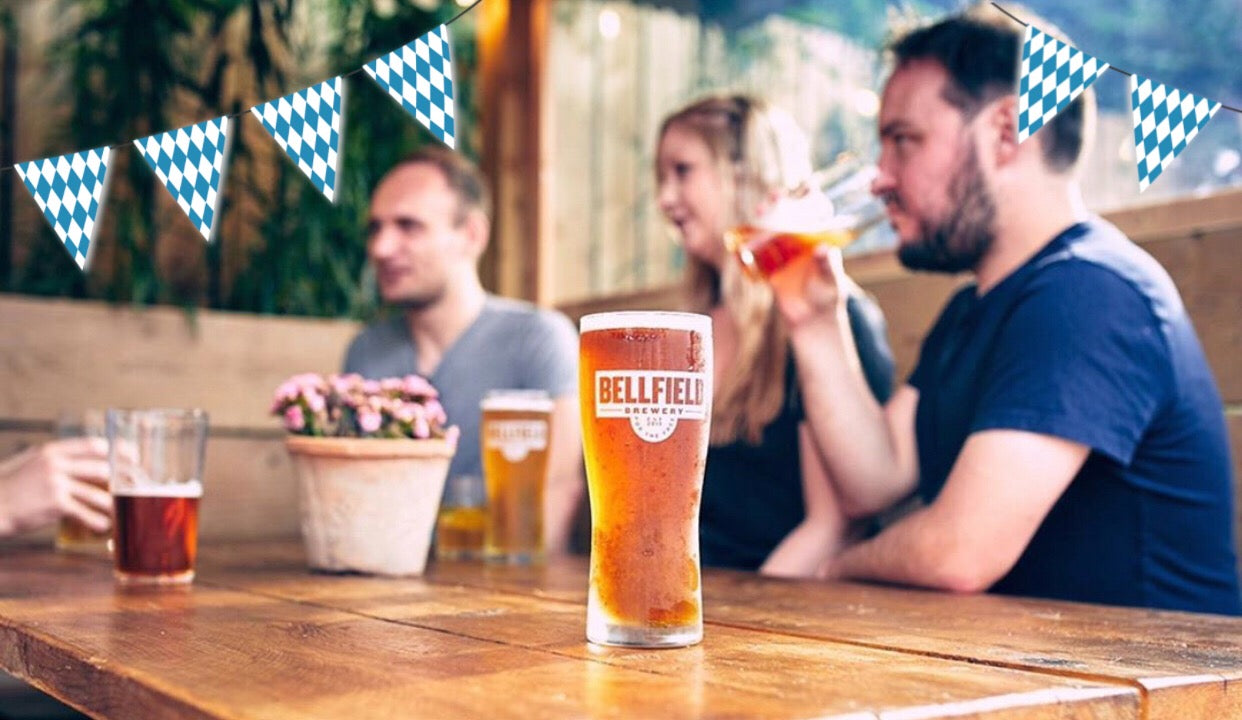 Always wanted to visit Oktoberfest but never quite got there?
Feeling nostalgic about weekends in Munich, eating 'currywurst'? 
Unfortunately this year's official Oktoberfest is cancelled due to Covid-19, but never fear, there's a mini celebration planned over the official three weekends of Oktoberfest (19 & 20 September, 25 & 26 September, 3 & 4 October) at a number of venues across the city including our own Bellfield Oktoberfest.

You can call into Pittoberfest at the Pitt for beer (obviously!) and delicious street food. Local breweries taking part include ourselves and our friends at Barney's Beer, Campervan Brewery, Pilot, Newbarns Brewery & Edinburgh Beer Factory.

Book a table for you and your friends and then head along to Lost in Leith and Bellfield, where the Oktoberfest-fun continues.

Bellfield's Oktoberfest features a variety of bottles of German beer in the fridge and locally-made, German-style beer on tap. So what will be pouring?
Hofbrau
One of the most famous breweries and beerhalls in Munich and Germany, Hofbrau has been making lager and serving pork knuckle since it was founded in 1589 by Wilhelm V, Duke of Bavaria.
Hofbrau Dunkel
'Dunkel' means Dark in German, this is a classic Munich style dark lager with a light body and dark colour. Fermented at cool temperatures and with a long, cool maturation "lagering" period. Most of the flavour from this beer comes from the malt, with low hop intervention. Dark in colour and full of body but light enough to wash down a bratwurst or three.

Ayinger
Situated 25km away from Munich, in Aying this Bavarian brewery has been operating since 1877. As it is not officially part of the Munich Oktoberfest celebrations, the town and surrounds hold their own festivities. We have two offerings from Ayinger:


Lager Helles
'Helles' means light or bright in German. The style was invented in Munich.  A Lager Helles is generally more full bodied with less pronounced hops than it's lighter cousin, the pilsner. Clean, grainy and malty with subtle noble German hop flavours and low bitterness.


Altbarisch Dunkel
"Old Bavarian Dark Beer" A dark and toasty traditional double fermented German village style beer. Dark with a golden hue, brewed with five different malts and lightly hopped.


Fruh Kolsch
This is a style of lager beer exclusively brewed in Cologne, in fact it has its own appellation and governing bodies to protect it. Fruh's distinctive packaging and history have made it a world renowned benchmark for the style. It's a top fermented lager, so technically an ale/lager hybrid which lends itself to a more full bodied fruit forward lager.


Schneider Weisse
Tap 7 Original
"Tastes like Bavaria"
The original recipe from George I. Shneider in 1872 is still in use. Deep amber and hazy from bottle conditioning with yeast. It's a beautiful expression of the full bodied bananas and cloves typical of a weissbier with low hop impact and a generous malt contribution.


Schlenkerla
Märzen Rauchbier
"Bacon in a glass"
Schlenkerla brews beer exclusively with smoked malt from their own maltings in Bamberg. The Marzen is a classic Oktoberfest style brewed in March - hence the name and traditionally lagered in cool cellars over the summer until it is ready to drink in the Autumn months.

We'll also be serving typical Oktoberfest food.
The Guys at On The Roll will be rolling in their Sausage truck to our beer garden and delivering tasty German treats – including currywurst of course - with GF options available.

Dogtoberfest
Then, all of you with doggy friends can join in our Dogtoberfest – either in person or virtually!
We'll be running a social media competition with donations going to Edinburgh Dog & Cat Home.

The subject will be 'Rate My Dog' and the highest-rated dog picture (with us tagged in it) wins a Bellfield T-shirt, hand made dog biscuits (baked from spent grain after our brewing) and a taster case of Bellfield beers.

About Oktoberfest
The festival has a long and illustrious history going back to 1810 and a royal wedding in Munich. The citizens of the city were invited to attend the festivities – including horse races - on the fields in front of the city gates. The decision the following year, to repeat the horse races gave rise to the tradition of the Oktoberfest which eventually grew into a huge event, complete with fairgrounds and beer stands, where vistors could quench their thirst. At the end of the 19th century, the beer stalls were replaced by the beer tents and halls, which landlords set up with the backing of breweries and the event has continued to grow into the festival we're all now familiar with.

Traditionally Oktoberfest beers would have all been varying shades of dark with smoky notes like the Rauchbier mentioned above. This is due to the variable nature of malting techniques. Often malt was toasted over a direct fire which led to some of it burning and toasting. Nowadays we have much more sophisticated machinery that allows us to kiln malt without altering the colour or burning it, which lead to the invention of lighter beers the world over.

An English version called "October Beer" was traditionally brewed a year in advance and left to mature. It was a strong, hoppy, amber ale.
Oktoberfest will be running:
September 19th & 20th
26th & 27th
October
3rd & 4th
Bellfield Tap Room & Beer Garden Opening Hours are:
Mon: Closed
Tues: Closed
Wed: 5pm - 10pm
Thurs: 5pm - 10pm
Fri: 2.30pm - 12 midnight
Sat: 12 noon - 12 midnight
Sun: 12 noon - 10pm
http://bit.ly/OktoberfestBlog2020
•Please note that we're doing everything we can to keep you safe and ask that you respect Scottish government guidelines on social distancing.
---
Also in Lastest News from Bellfield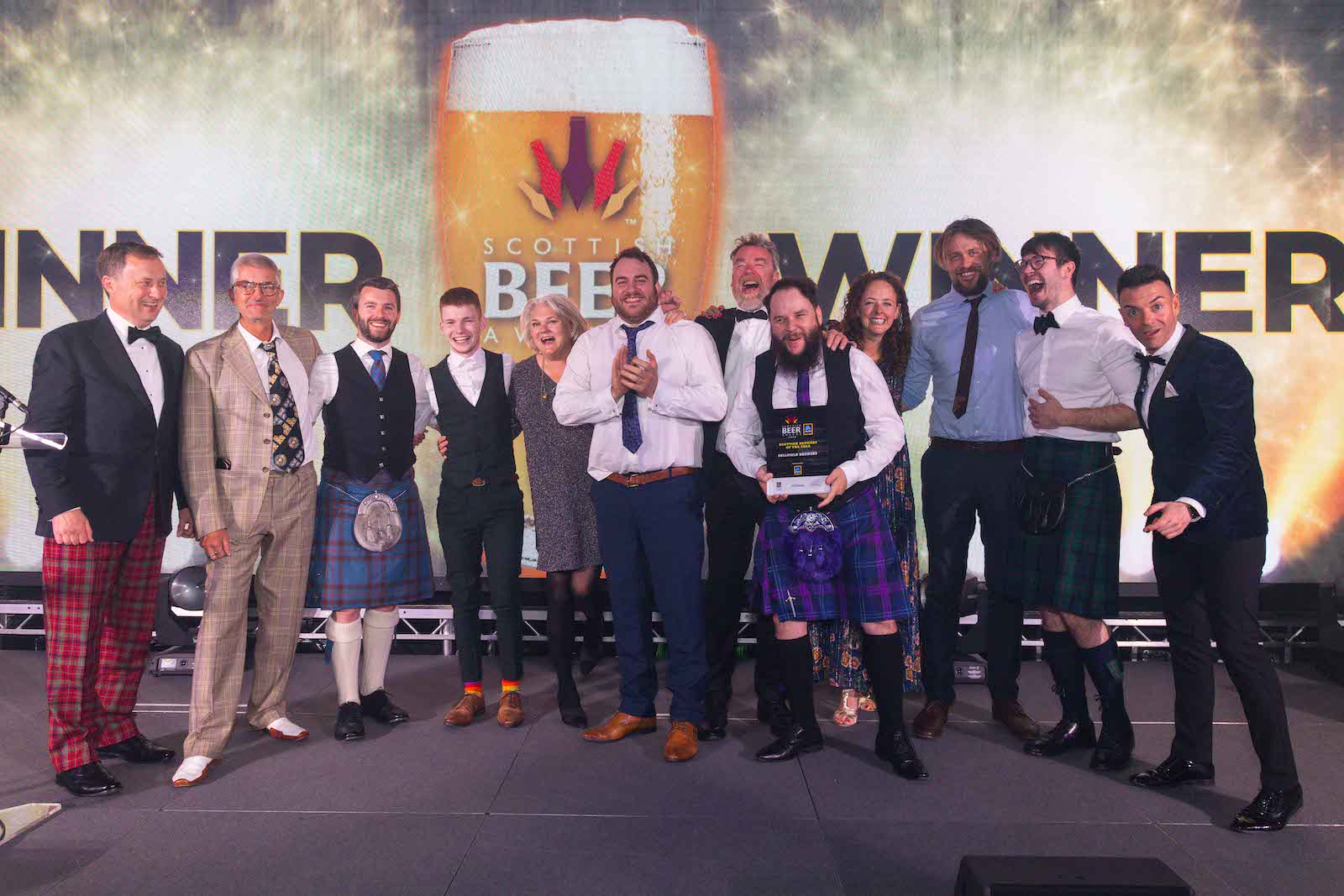 Edinburgh's Bellfield Brewery won four awards at last week's Scottish Beer Awards, winning three medals in the taste awards and the ultimate prize of the night, "Scottish Brewery of the Year", sponsored by Aldi.
Bellfield's Vienna Secession Lager won gold for "Best Amber or Dark Beer", their Craft Lager won silver for "Best Lager" and Wild Shore Saison won bronze (out of 27 finalists!) for "Best Session Beer".