Lockdown blog #6: Can or bottle?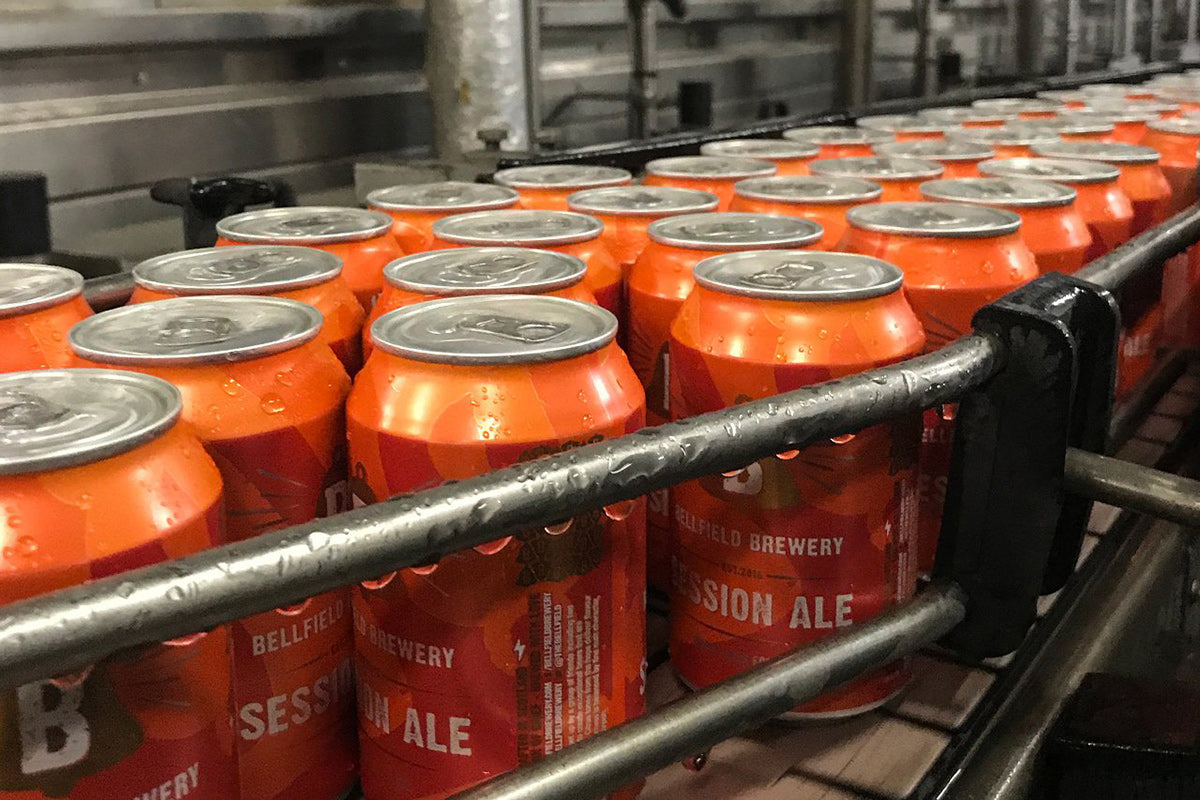 When did beer drinkers fall in love with the can rather than the bottle?
You need to go back 90 years. Up to this point, beer had only been available in barrels or in glass or heavy stoneware bottles. (In fact the history buffs among you, might like to know that bits of stoneware beer bottles still regularly wash up on our local beach here in Portobello, Edinburgh, sometimes with the maker's name or beer name still visible!).
The shift from bottle to can started in the USA, when a Virginia-based brewery became the first to commercially package beer into cans, in the 1930s.
At that time, cans were heavy duty tins, which needed a special triangular, can piercer to open them.
Meanwhile, on the other side of the Atlantic, Felinfoel, a small brewery in Wales, led the field in commercial beer canning, thanks in large part to Wales' 200+ year-long dominance in global, tin-plate production.
Early beer cans
These early beer cans, produced by Felinfoel mainly for the British armed forces in WW2, were sealed with a 'crown cork' – the typical toothed-edge cap that we're used to seeing on beer bottles.
In the late 1950s, the aluminium can came along. 
It was much lighter and cheaper to produce and with advances in engineering and machine tooling, can design has continued to evolve.
One of the biggest game changers (at least for bare-footed beach goers) was the invention in the 70s, of the 'stay-tab' – the pull ring that doesn't detach from the can.
Beer can revolution
The last five years has seen an explosion in the proportion of beer that is sold in cans rather than bottles. In Scandinavia more than 65% of beer is packaged in cans, while in UK and USA it is closer to a third.
The reason for the beer can revolution - in UK and USA at least - according to Marston's has been the exponential growth of Craft beer.
There's been a massive shift in sales towards can with a five-fold increase in just two years over bottle.
So why have craft brewers chosen to package beer in cans instead of bottles?
Perhaps because the taste of beer has become so important.
Taste reduces rapidly when beer is exposed to light – that's why most beer bottles are made of brown glass – to cut down the penetration of UV rays that can spoil the taste.
But aluminium cans - being air tight and light-tight - have a longer shelf life and protect the flavour and the hoppy complexities of modern craft beers, better than bottles.
Changing attitudes
The shift to cans also comes down to consumers' changing attitudes.
While older drinkers might still prefer to hold a brown bottle in their hands, younger consumers are looking for packaging that fits their lifestyle and image: standout design in a format that's more environmentally friendly and easier to store in the fridge.
As Matt Burns, Creative Director at specialist, drinks design agency, Thirst Craft says:
"Cans have rocketed in popularity in recent years thanks to the holy trinity of convenience, quality, and recyclability. On top of this, many see cans as the younger format of choice thanks to the bigger canvas for creativity they provide. We've seen craft producers leverage the 360° can experience in so many different creative ways. And whether it's using it in its entirety (like Mikkeller, Magic Rock, Other Half or Commonwealth), keeping things simple like punchy and playful Camden and Overtone, to dialling up premium sophistication for the likes of Wiper and True and Thornbridge, cans offer a brand real estate bottles simply can't match. With fridge space at a premium these days, the can crusade is going nowhere." 
"Cans will account for almost 5% of SIBA members' production in 2020 up from 0.5% in 2015" - source: SIBA
Can manufacture
Most beer cans used by the larger breweries in the UK are manufactured by one company – Crown Holdings – originally the Crown Cork & Seal Company (harking back to the 'crown cork' mentioned earlier).
However, the print runs required are huge so many microbreweries are now putting in micro-canning lines – small, semi-automated lines - and labelling blank aluminium cans with paper labels.
There are even mobile canning services that will come to you.
Successfully canning beer is a science as well as an art.
Not only are the cans precision engineered and the shape carefully designed to achieve the most efficient packing volume, they must be perfectly sealed or the drink inside can spoil. That's why many smaller breweries get their beer 'contract packaged' at one of the larger breweries where they have state-of-the-art canning lines that will fill and seal thousands of cans an hour.
Environmental benefits of can over bottle
Finally and perhaps most importantly, the environmental benefits of using aluminium cans are compelling.
Aluminium can be recycled indefinitely; it is the most recyclable material on the planet. According to The Aluminium Association, "75% of aluminium produced in the U.S. is still in use today. Aluminium can be recycled directly back into itself over and over again in a true closed loop."
So why is it, despite all the advantages of cans and the evidence in favour of aluminium over glass, there are still people who insist that beer tastes better from a bottle than a can?
A 2016 study in the journal Beverages, aimed to answer this question once and for all.
Researchers found that when shown the beer being poured, 6 in 10 participants preferred beer from a bottle perhaps because of 'perceived quality'.
However, the results of a blind taste test in the same study showed that there were no preferences for bottled or canned beer, and most couldn't tell the difference.
While cans have many advantages over bottles, there are still times when brewers would choose to package in bottle.
Sometimes this is down to aesthetics; for example, serving a can of beer to diners in a smart restaurant is still considered slightly outré. Sometimes it's technical: certain styles of beer such as bottle-fermented Belgian styles, simply wouldn't work in cans.
Here at Bellfield we put our beer into both cans and bottles. You'll find the full range in our online shop.
So, after all that, which do you prefer, bottle or can?
Find out more about the clever engineering behind aluminium cans in this video:
Source study: Barnett, A., Velasco, C., and Spence, C. 2016. Different? Beverages 2(25): doi: 10.3390/beverages2040025
---
Also in Lastest News from Bellfield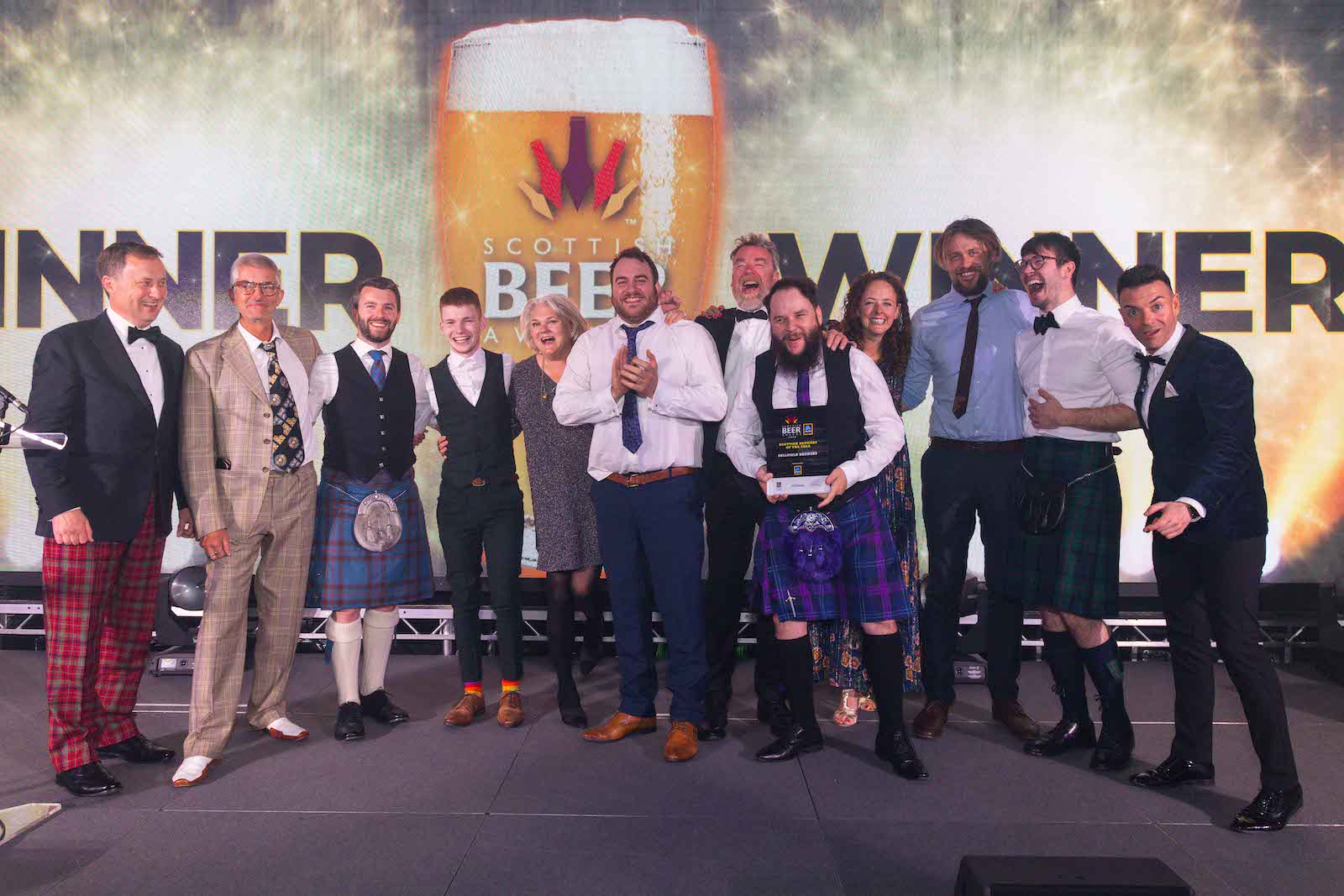 Edinburgh's Bellfield Brewery won four awards at last week's Scottish Beer Awards, winning three medals in the taste awards and the ultimate prize of the night, "Scottish Brewery of the Year", sponsored by Aldi.
Bellfield's Vienna Secession Lager won gold for "Best Amber or Dark Beer", their Craft Lager won silver for "Best Lager" and Wild Shore Saison won bronze (out of 27 finalists!) for "Best Session Beer".