Lockdown Blog #12 Crafting New Beers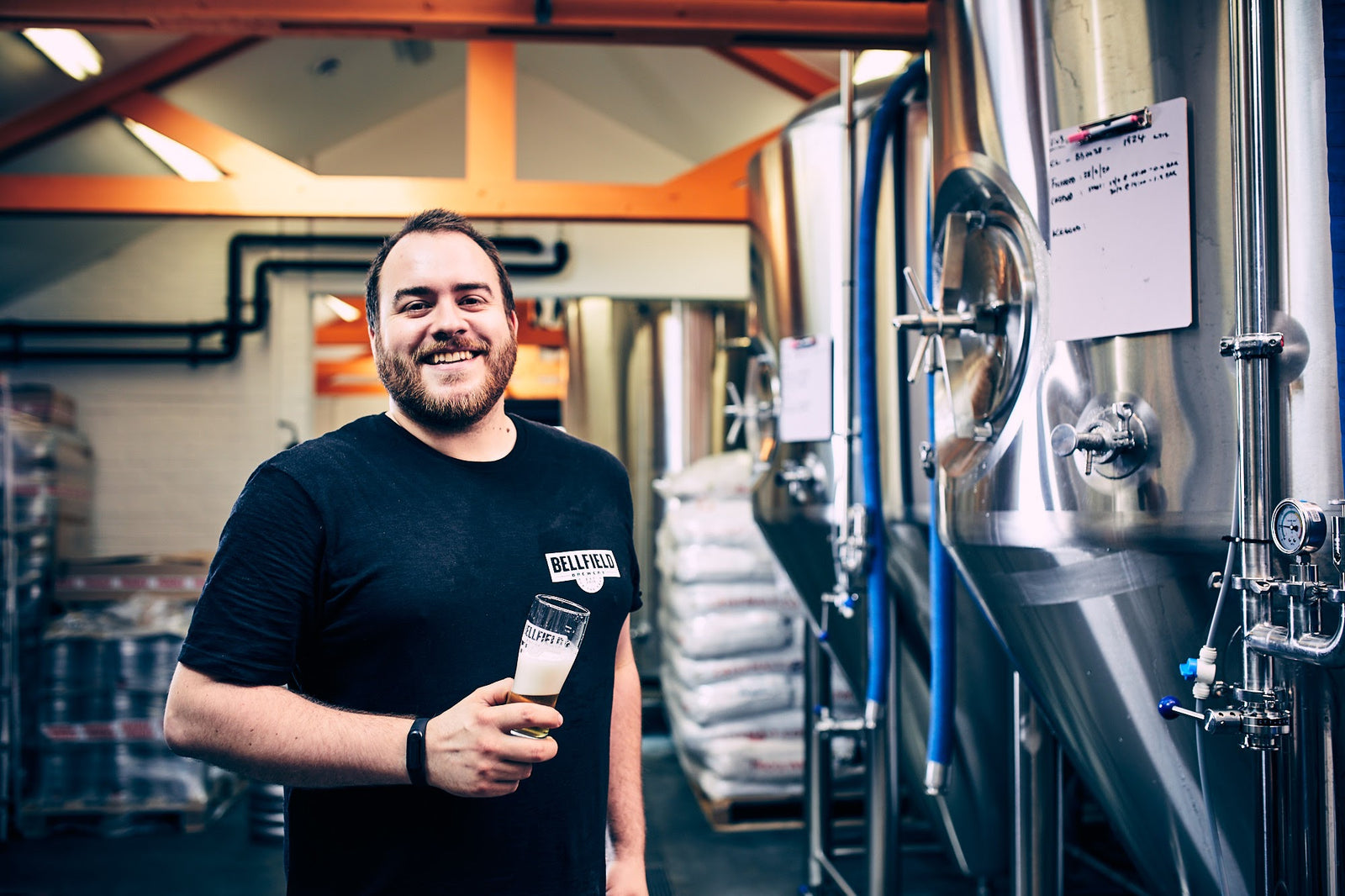 Developing new beers at Bellfield Brewery is a pretty democratic process. It tends to start with a general discussion often off the back of a team beer tasting with a focus (unsurprisingly) on what we want to be drinking.
Then our brewers - Keith Robertson and Sally MacGarry - put their heads together to draw up a long list based on these ideas.
Then follows recipe research; looking at all the possible variations and determining what they think will work best, in terms of being brewed efficiently on our kit and also what's going to appeal to our customers.
So for example, it's taken us four years to get to a point where we're happy to brew really dark beer because dark, roasted malts tend to have a much higher gluten content so we've tended to work with pale malts. 
Days - and sometimes weeks - of technical discussions then follow about the details of the preferred recipe: what colour, what ABV, what bitterness level should it have? What about the finish? Long and enthusiastic discussions about which hops to select for flavour and aroma take place (in normal times) over food from our favourite neighbourhood pub - Safari Lounge - and early evening pints.
Every stage of the brew itself is determined ahead of time from the temperature of the mash to the length of the boil. Next comes a series of test brews - at small scale - on a 100 litre R&D brew kit. Then the team gets involved in tasting these variations and giving feedback until a final version is settled on.
The chosen recipe then has to be scaled up from the R&D kit to a full brew.
At some point, the real fun starts when the team is asked for naming suggestions. 
Typically Keith sends round a detailed description of the new beer and then we all pitch in with ideas.
We work within certain constraints for naming new beers, such as a maximum character length and the fact that the style of beer should ideally be included in the name. The flavour profiles of our beers are reflected in the patterns and complementary or contrasting colours on the packaging. 
So in terms of new beers, if you're familiar with Bellfield you'll know that we've recently launched (in cans) Daft Days Porter, (5.5% ABV) - an inky-black, full-bodied ale with mid level bitterness and a rich, malty finish. It's packed full of flavours of chocolate, coffee and has a residual sweetness on the finish. It's named after a poem by the great Edinburgh poet, Robert Fergusson (1750-74) who deeply influenced Robert Burns and who was born a short walk from Bellfield Brewery.
Jex-Blake Mosaic IPA, (5.6% ABV) isn't exactly new but we've now packaged it into 330ml cans. A  luscious, single-hop, golden beer with juicy, tropical fruit aromas of pineapple and mango and pine and citrus flavours. Inspired by Sophia Jex-Blake, the first practising female doctor in Scotland, our June blog tells you more.
And just before Christmas we brewed a traditional Scottish Eighty Shilling that went straight into mini casks and flew out the door.  Looking ahead, we have this week - brewed our International Women's Day beer for 2021, developed by the women of Bellfield, under the watchful eye of Sally McGarry, our R&D brewer. Rational Creatures IPA (named after a famous Jane Austen quote) is a tropical, juicy IPA at 4.3% ABV that has been double dry hopped with Nelson Sauvin, Cashmere and El Dorado hops. A light, but racy bitterness is complemented by creamy oats with low malt intervention to showcase the punchy hop profile. This will be available in 330ml cans from mid March. 
We have challenged the team to produce a new beer each month through 2021 for packaging into 330ml cans (if we are still under lockdown) and also for keg and cask for our Taproom and the on-trade when things start to open up again.  
Under development are various beers for the summer and autumn 2021, including a Belgian Pale Ale, at around 4.5% ABV, aromatic with spice and clove from the selected yeast and a big citrus and spice hit from the hops.
Keith and Sally are also working on a fruited IPA, at around 6.5% ABV. This will be a big hop-forward IPA with a tropical fruit hit from hops and fruit puree.
If you have an idea for a new beer style you'd like us to brew, please get in touch via info@bellfieldbrewery.com.
Team Bellfield
You'll find all our beers for sale in can, bottle and 5 litre mini cask in our online shop.
---
Also in Lastest News from Bellfield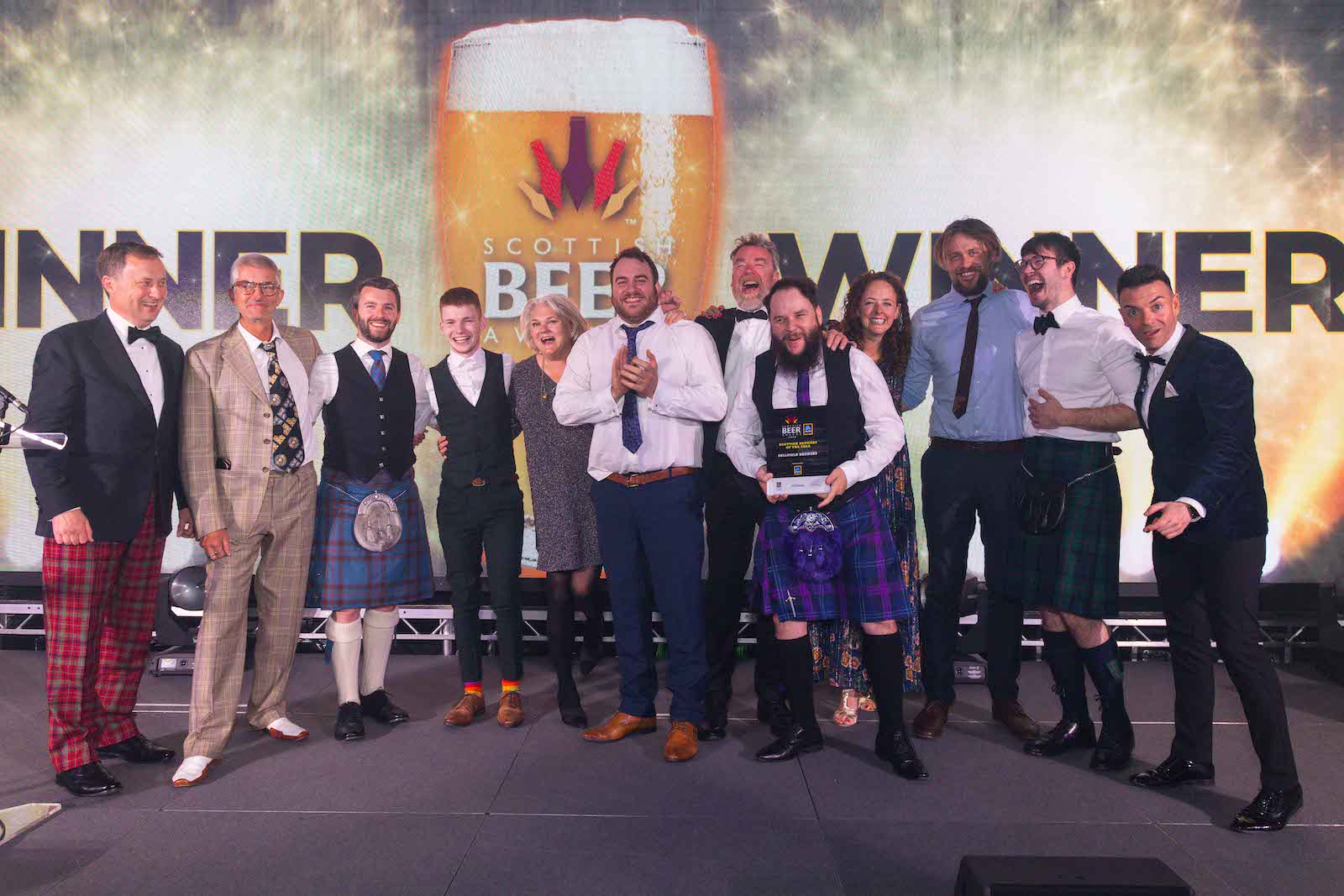 Edinburgh's Bellfield Brewery won four awards at last week's Scottish Beer Awards, winning three medals in the taste awards and the ultimate prize of the night, "Scottish Brewery of the Year", sponsored by Aldi.
Bellfield's Vienna Secession Lager won gold for "Best Amber or Dark Beer", their Craft Lager won silver for "Best Lager" and Wild Shore Saison won bronze (out of 27 finalists!) for "Best Session Beer".