Bellfield Brewery launches drive to raise £500,000 to fund expansion
The UK's first dedicated gluten-free micro brewery, has launched a funding drive to raise £500,000 to support its rapid expansion, following a successful first year of trading.
Launched in March 2016, Scotland's Bellfield Brewery has enjoyed a number of big contract wins as the free-from food and drink sector continues to expand with Mintel predicting the market to grow to £673m by 2020 (Mintel 2016).
Now the brewery wants to raise additional capital – through a mix of equity, grants and loans – to fund its expansion. The raise is being supported by the Corporate Finance team at Henderson Loggie Chartered Accountants and legal advisers, Harper Macleod.
Based in Edinburgh, Bellfield will create a number of new jobs, allowing the existing operational team to commit on a full time basis and strengthening the sales and management teams - initially recruiting a number of experienced account managers to service and develop their UK and international distribution network.
Bellfield will also invest in taking new recipes and packaging formats such as cans to market, to ensure the company maintains its leading position and continues to develop innovative and market leading beers.
Bellfield brewer and head of business development Kieran Middleton, said, "In the first year of trading we have established that there is considerable demand for our products, and have delivered on our ambition to produce beer that stands up to anything in the market. Having also secured distribution agreements with the leading food & drink distributors and wholesalers in the UK we now need to capitalise on this opportunity by growing the sales and operational team and extending our range of beers."
In 2015, Bellfield raised £180,000 through the crowdfunding platform, Crowdcube. A number of the larger investors from this initial round have already committed to investing in this next fund raising round.
Last year, Bellfield secured listings with a number of the UK's leading distributors and wholesalers including Bidvest Foodservice (Scotland and UK), Matthew Clark, Amathus, Green City, Inverarity Morton, Gordon & Macphail and Craft Beer Clan Scotland.
The young brewery was chosen as one of only 10 breweries in the UK for Naked Wines' new craft beer offering which launched in January 2017.
Bellfield's beers have been very well received in the market with Bohemian Pilsner a finalist in the 2016 Scottish Beer Awards and its Lawless Village IPA came 2nd in the Independent's recent Top 10 Gluten-Free beers list.
In Scotland, Bellfield beers will again feature in Aldi's craft beer festivals and from April, in bars on CalMac's fleet of 32 ferries.
The gluten-free beers are also stocked by around 200 bars, restaurants and independent bottle shops, mostly in the central belt of Scotland, although the brewery is starting to make inroads into London and the SE. Considerable interest has been shown in the beers from overseas and Bellfield has already shipped pallets of beer to wholesalers in Singapore and Switzerland.
ENDS
All investment enquiries should be directed to Corporate Finance Advisers – Henderson Loggie:
Rod Mathers (Partner)
Rod.mathers@hlca.co.uk
T: 0141 221 6807
M: 0779 582 6008
Alisdair McNaughton (Manager)
alisdair.mcnaughton@hlca.co.uk
T: 01382 200055
M: 0777 251 3666
NOTES
About Bellfield Brewery: The family-run brewery was set up by two Coeliac friends who saw it as their mission was "to brew certified gluten-free beer that tastes great." www.bellfieldbrewery.com
The beers are Coeliac UK accredited and carry the 'crossed grain' symbol. They are craft brewed in small batches using the simplest ingredients: Scottish water, malts from Crisp and Fawcetts, the best hops that Bellfield can source from around the world and carefully chosen yeasts. Bohemian Pilsner (4.5% ABV): A noble classic Czech pilsner, pale with a light body, slight background bitterness and gentle floral tones from the finest Saaz hops leading to a soft refreshing finish. 1.5 units of alcohol per 330ml bottle. Lawless Village IPA (4.5% ABV): Named after a neighbourhood in Edinburgh - Portobello – where the founders live. A copper coloured, aromatic beer brewed as a traditional American IPA made with pale and crystal malts and Cascade and Centennial American hops for a modern, citrusy finish.1.5 units of alcohol per 330ml bottle.
New research from Mintel reveals that sales of free-from foods are forecast to grow 13% to reach £531 million in 2016, up from an estimated £470 million in 2015.
---
Also in Lastest News from Bellfield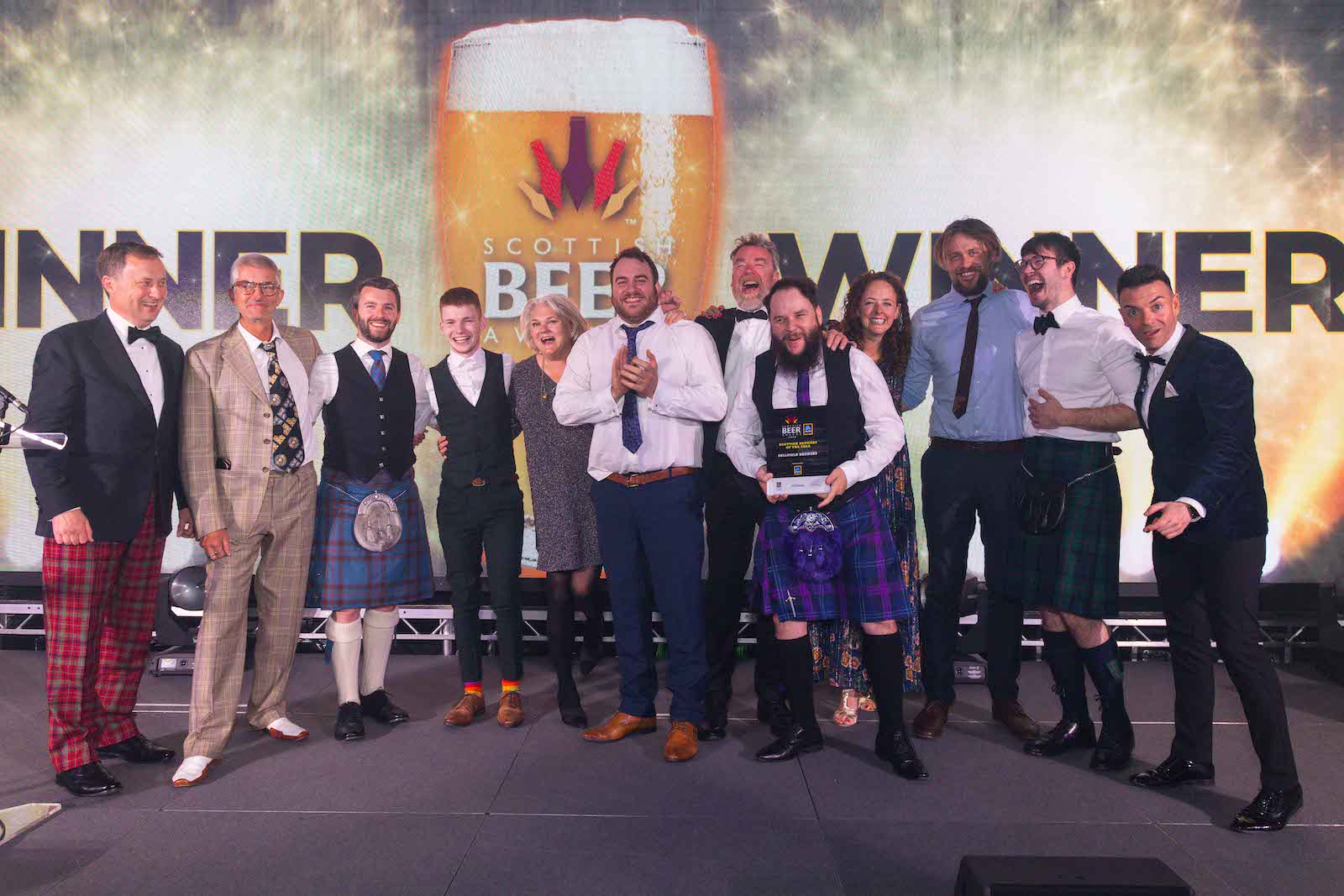 Edinburgh's Bellfield Brewery won four awards at last week's Scottish Beer Awards, winning three medals in the taste awards and the ultimate prize of the night, "Scottish Brewery of the Year", sponsored by Aldi.
Bellfield's Vienna Secession Lager won gold for "Best Amber or Dark Beer", their Craft Lager won silver for "Best Lager" and Wild Shore Saison won bronze (out of 27 finalists!) for "Best Session Beer".