Full Tilt Imperial Radler - A Bellfield And Vault City Collab.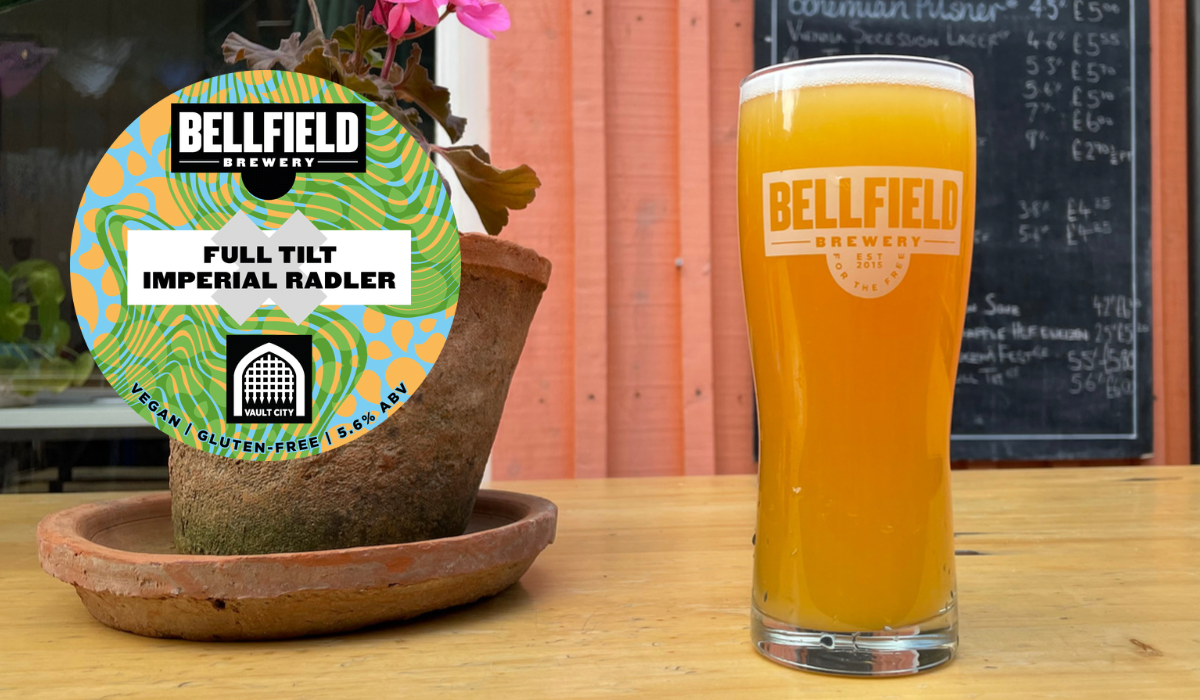 A collaborative project with our friends at Vault City, this Imperial Radler is inspired by the tropical aromas of a certain pineapple and grapefruit-based fizzy drink. Full of exciting fruit aromas with a zing of citrus tartness, Full Tilt will be available in Bellfield's Taproom from Friday 23rd September.
For Bellfield's first beer brewed with real fruit, who better to look towards than Portobello's "modern sour beer people", Vault City.
Perhaps more than any other in recent years, they're the brewery that's introduced new palates to the world of intensely flavourful, sour beers.
Decadently infusing real fruit is central to their craft, brewing everything from puckeringly sweet red fruit sours, dessert sours, pastry sours and even a homage to our national drink.
Taking similar playful inspiration from a certain well-known fizzy drink, the collaboration set out to brew a fruit-forward beer, bursting with flavours of pineapple and grapefruit, set within the refreshing radler-style.
NOT YOUR AVERAGE SHANDY
You could think of the radler as the harder-working German equivalent of the British shandy.
Shandies have often been the compromise, the concession, the cop out — a glug of lemonade from the soda gun behind the bar, watering down whatever's cheapest on tap.
In an excellent Pellicle article dauntlessly attempting to reclaim the shandy, Jemmie Beddie notes "there is also a possibility that shandy comes from the Scots word, chanty, meaning chamberpot"…we'll let you draw your own conclusions from there.
By contrast, the German-speaking regions of Europe have championed their tradition of radlers, unsurprisingly, working that bit harder to create harmony between fruit juice and beer.
Typically blends of full-bodied hefeweizens and citrus juice, radlers are effervescently hazy rather than scouringly fizzy.
They are also traditionally low in alcohol, rarely breaching 3% ABV and promoted for their apparent isotonic properties.
Given all this extra effort and exertion putting on a thirst, it is no surprise that radler directly translates to "cyclist".
FROM HALF TILT TO FULL TILT
The prefix "Imperial" signals how we've decided to kick this beer into high gear, increasing the radler's complexity by upping the ABV.
Vault City co-founder Steve was instrumental in helping us achieve this.
His invaluable advice towards a truly modern radler helped the Bellfield brewing team design a beer that in fact, goes against the traditional ethos of liquoring back stronger brews with fruit juice.
For our base, rather than a more classic wheat beer, we opted for a Citra-hopped pale ale brewed with malted barley, maize and oats.
Oats boost the beer's body and mouthfeel, giving us a gluten free alternative to wheat - with similar results.
The beloved flavours of tropical fruits from a light, dry hop with Citra, were intensified by additions of pineapple, blood orange and grapefruit juice.
Rather than being added after the brew was complete, the fruit juice is integral to the beer.
400kg of fresh fruit were added during the latter stages of fermentation, letting the still active yeast (a clean and crisp German Kolsch strain) convert the sugar from the fruit juice into alcohol.
RADDLE UP
Combined, these elements make Full Tilt a beer with all the tart bitterness you'd expect from generous additions of grapefruit and pineapple juice, beautifully balanced by a creamy, lush mouthfeel. 
Our head brewer, Keith, pitches it as a great alternative to steins of cold, crisp lager during Oktoberfest: "After your 6th stein and 3rd currywurst, it's always good to revitalise your senses with a fruity hit."
A beer certain to pack a punch, Full Tilt will be pouring in our Taproom this Oktoberfest and in selected pubs.
---
Also in Lastest News from Bellfield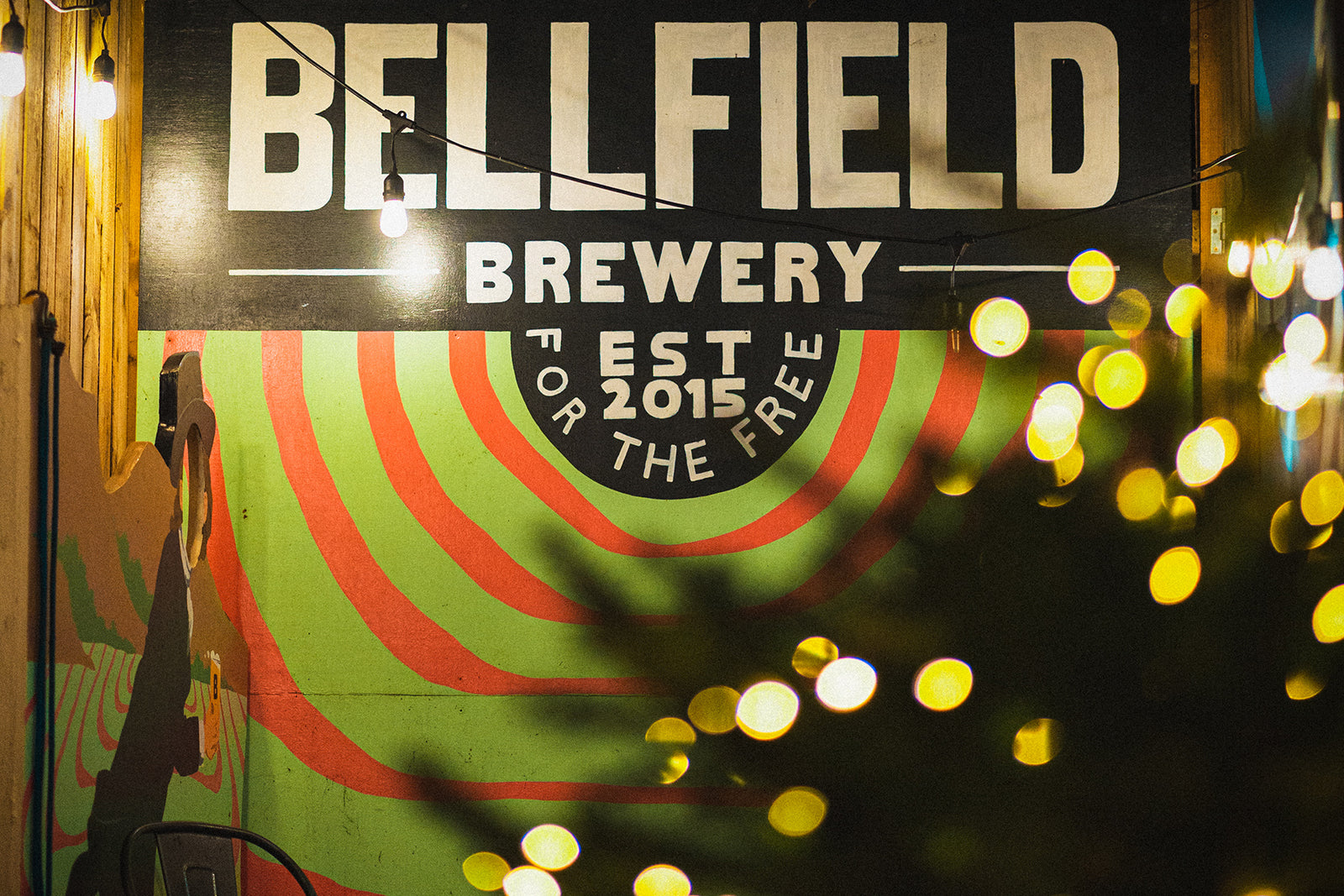 If you're looking for a perfect festive venue for your Christmas party, team drinks or get-together with friends and family, the Bellfield Taproom and Beer garden has you covered.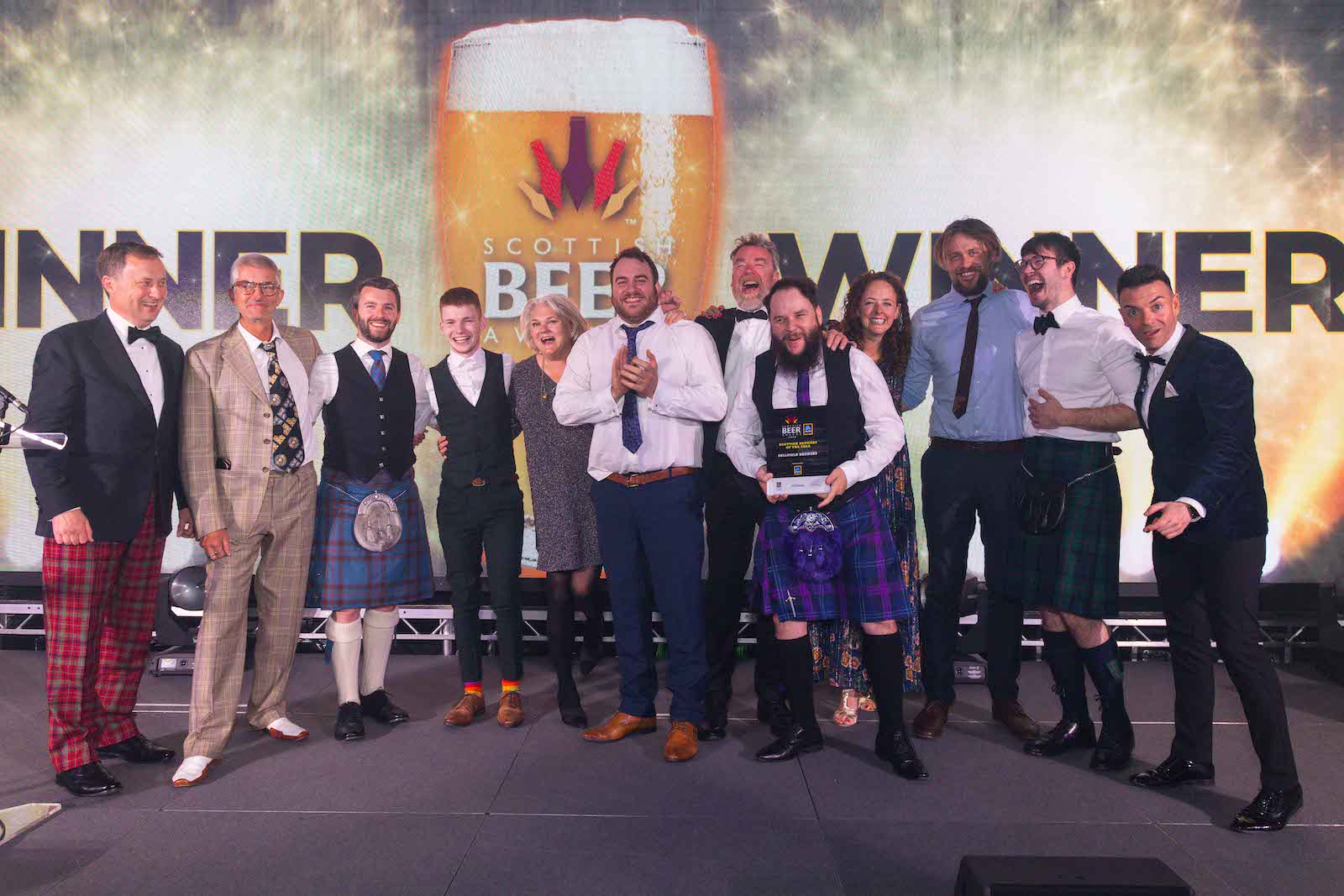 Edinburgh's Bellfield Brewery won four awards at last week's Scottish Beer Awards, winning three medals in the taste awards and the ultimate prize of the night, "Scottish Brewery of the Year", sponsored by Aldi.
Bellfield's Vienna Secession Lager won gold for "Best Amber or Dark Beer", their Craft Lager won silver for "Best Lager" and Wild Shore Saison won bronze (out of 27 finalists!) for "Best Session Beer".