Beer Garden reopening!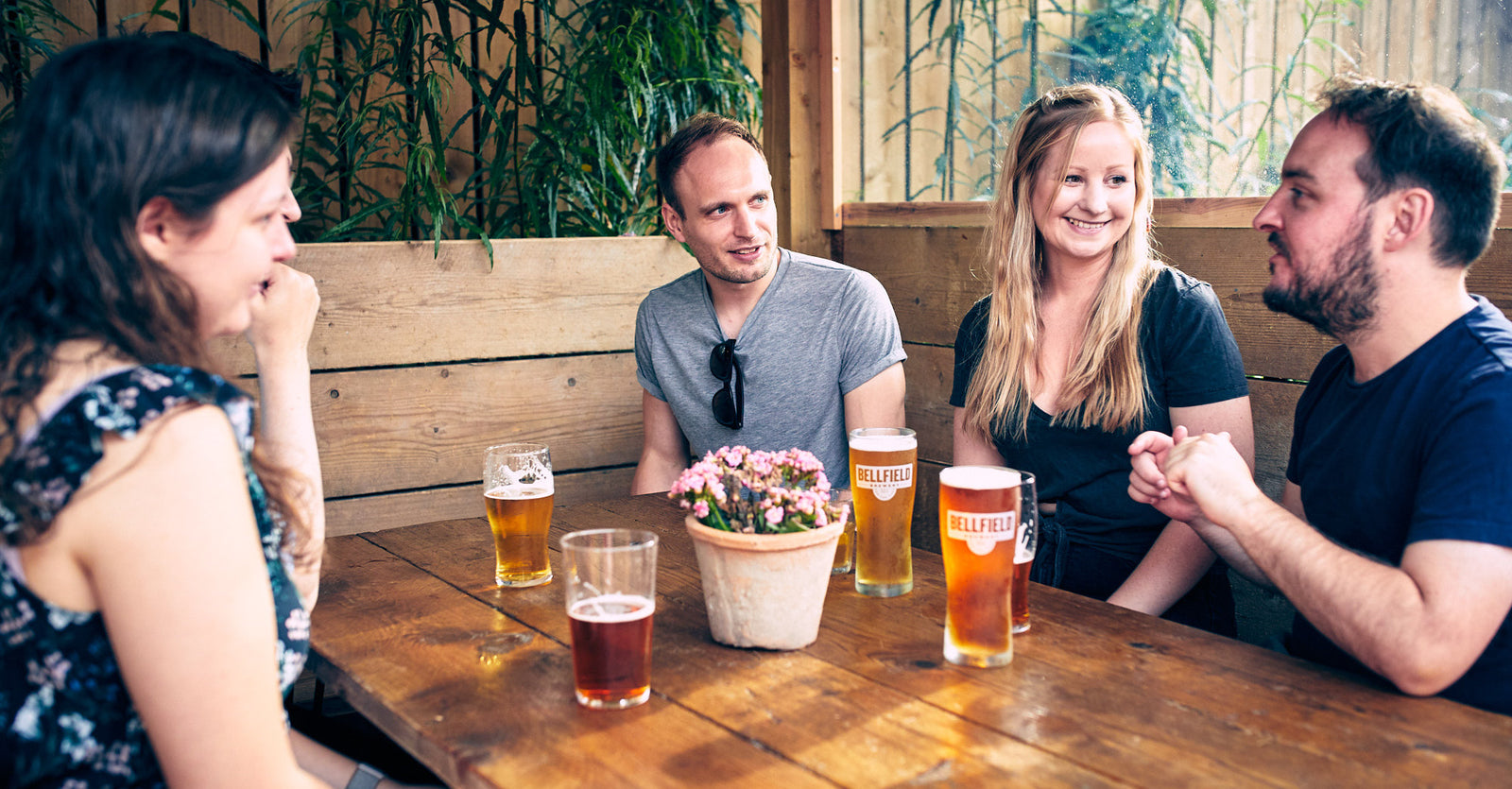 We're reopening on 26th April!
Not long to wait now, until you're able to enjoy a fresh pint of draught beer, in the spring sunshine in our beer garden.
As usual, we'll be offering a range of our own beers (tap and cask) fresh from the brewhouse, alongside some carefully chosen guest beers and spirits and non alcoholic drinks from other small suppliers.
Judging by the response we've had since the news of Covid restrictions easing was announced last week, some of you have built up quite a thirst for draught beer during Lockdown.
We've taken a lot of bookings!
Scottish Government guidelines at time of writing this, allow us to take bookings for 6 people from 3 households, outdoors until 10pm closing. All the usual social distancing and Track and Trace rules apply.
We will also have a full range of beers (can and bottle) in our fridge, or fresh draught (tap and cask) in 2 litre takeaway containers and 5 litre mini casks to take home with you.
Opening times
We will be open 26th–03 May (Bank Holiday) from 12 noon to 22:00.
Then with effect from 04 May:
Monday–Wednesday (closed)
Thursday 17:00–22:00
Friday 17:00–22:00
Saturday 12:00–22:00
Sunday 12:00–22:00
But, we're keeping this under review and will open up more booking slots on other days, depending on demand.
Book now, here. 
Table bookings: the small print
Table bookings are for 2 hour slots. We allow 30 minutes between bookings for cleaning. If you'd like to stay a little longer, you can book two, back to back time slots, giving you 4.5 hours. 
A barrel seats 1–4 people on high stools
A booth seats 1–6 people around a table (with heaters and phone charging points/USB ports)
Please book the same table type for a time slot 2.5 hours after your first one and send us an email taproom@bellfieldbrewery.com to let us know, so we can make sure you stay in the same place. 
Table booking at Bellfield Brewery is free; the booking system we use attaches a fee of £1. If you cancel your slot less than 24 hours ahead or don't turn up we will need to charge you £5 per person.
If you have any special requests or need any help with access, please drop us an email: taproom@bellfieldbrewery.com.
Food: pop ups and local deliveries
And keep an eye on social channels for news of food pop ups. We've got a great line up planned. You'll also be able to order in for delivery to your table from our local friends (and favourites) at Safari Lounge. Or order in your preferred takeaway via the usual food delivery apps.
We won't open our indoor taproom until we're able to serve alcohol indoors.
And coming soon: The Keg Yard
We hope – if we can get an occasional license – to get some tables and chairs in our newly paved 'back yard' or the keg yard as we call it.
Usually used as a brewery working area, we've recently had it repaved, with some smart, block paving. Our head brewer, Keith, is pretty chuffed to finally have a tidy, well organised area outside the brewhouse.
We're hoping to set up a small bar in the same area so you'll be able to see right into the brewhouse where our beer is actually brewed. And in 'normal' times, when restrictions allow, we'll restart tours and tastings again.
We look forward to seeing you in the garden for a pint soon!
Team Bellfield
---
Also in Lastest News from Bellfield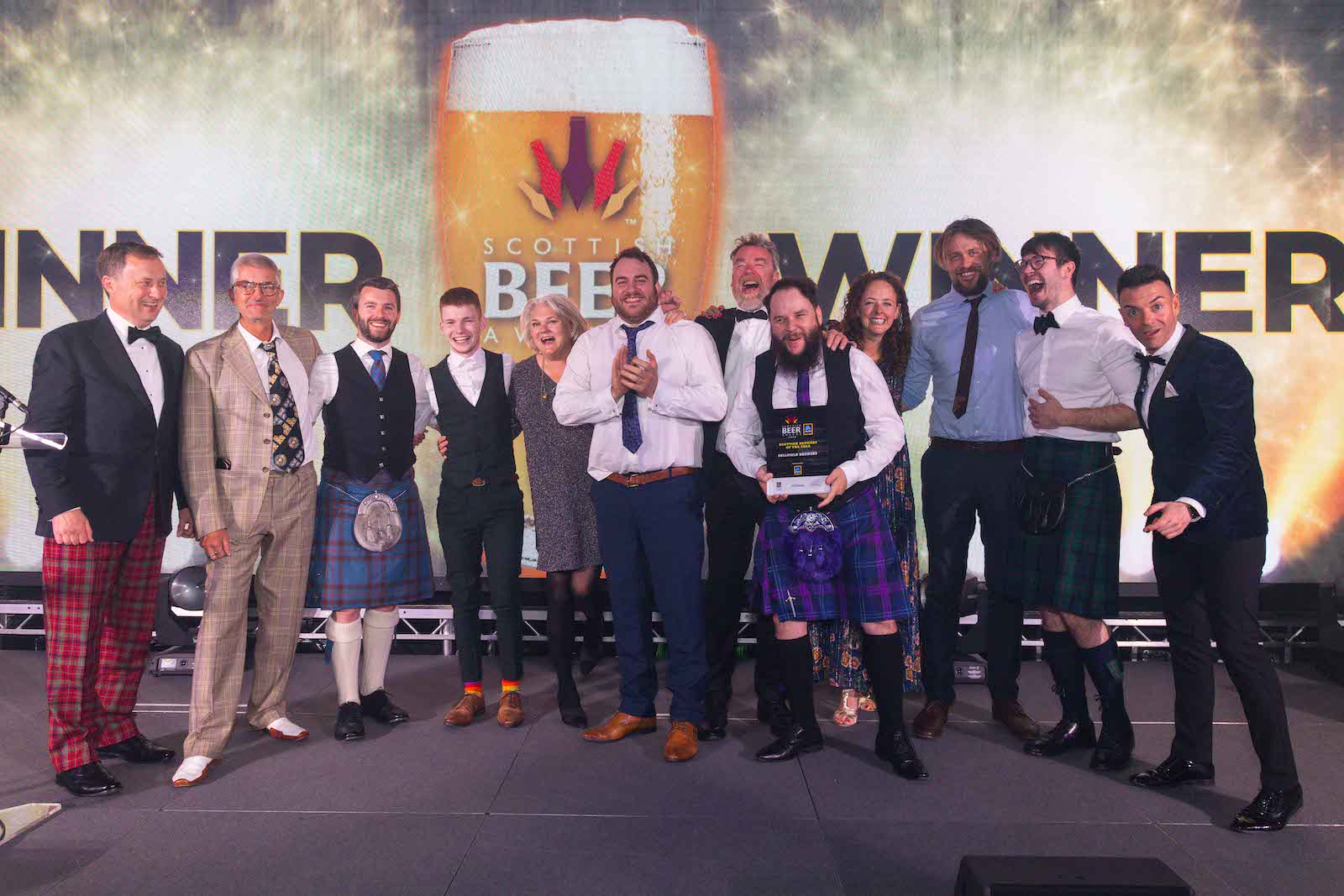 Edinburgh's Bellfield Brewery won four awards at last week's Scottish Beer Awards, winning three medals in the taste awards and the ultimate prize of the night, "Scottish Brewery of the Year", sponsored by Aldi.
Bellfield's Vienna Secession Lager won gold for "Best Amber or Dark Beer", their Craft Lager won silver for "Best Lager" and Wild Shore Saison won bronze (out of 27 finalists!) for "Best Session Beer".